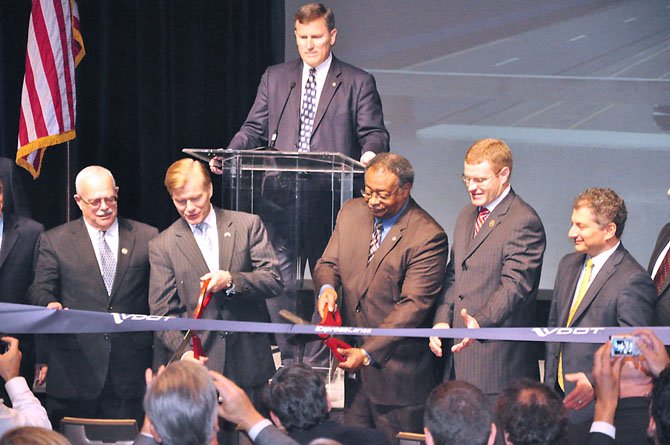 The 495 Express lanes opened to traffic in the early morning hours of Saturday, Nov. 17, marking the completion of a project more than 10 years and $2 billion in the making. The project adds two toll lanes on 14 miles of the Beltway in Virginia, in an effort to ease the road's traffic congestion.
"As this area, the economic engine of the state, continues to grow, the infrastructure has to keep up with that, and today is another sign we're willing to meet that challenge," said Gov. Robert McDonnell at the opening event Tuesday, Nov. 13 in Tysons Corner. "This project has pumped billions of dollars into the economy and put thousands of people to work, and hopefully it will begin to undo some of the gridlock in this area and give travelers a new choice."
The 14-mile stretch of express lanes starts just north of the Dulles Toll Road exit and goes south to the Springfield Interchange. Heading south, exits are at the Dulles Toll Road, Jones Branch Drive, Westpark Drive, Route 123, Route 7, Route 66, Lee Highway, Gallows Road and Braddock Road.
Several Tysons exits, such as Jones Branch Drive and Westpark Drive, are open only to express lanes users in order to allow drivers to access parts of Tysons Corner without using Route 123 or Route 7.
"On a Saturday, without rush hour traffic, that's the clear advantage of the lanes, that I could take Braddock Road right to the Westpark exit and get to the mall parking lot without going on any major roads," said Steve Smith of Springfield. "Coming from Braddock on a Saturday afternoon, I think I paid about $1.20, $1.30, something like that, which wasn't bad. If it's a weekday rush hour and that rises to $3 or more, I'm not sure if I'd be willing to do that though."
On Monday, Nov. 19, at 9 a.m., traffic was flowing at a steady rate through the Beltway at almost the same rate as the weekend, and the rate for going the full length of the lanes cost $1.65.
The price will range from 20 cents per mile to $1.25 per mile depending on congestion. Officials estimate the average toll would be between $3 and $6, but it could be as more than $15 if traffic is bad.
Speaking at the Nov. 13 opening event, Supervisor Jeff McKay (D-Lee) said it only took his trip from his district to the Tysons Corner Sheraton to show why this project was needed.
"When I took the Beltway just this morning, it was a reinforcement that it shouldn't take an hour to get from Springfield to Tysons Corner, and with this project open, I know it won't take an hour," he said.
THE EXPRESS LANES PRICE can change as quickly as every 15 minutes, as an algorithm will determine when to raise and lower the price. According to the I-95 Exit Guide website, which ranks traffic in real time on a scale of green (moving freely), yellow, red and black (at a virtual standstill), the Beltway was green over the weekend, and a complete trip across the 14 miles of express lanes cost around $1.65.
Drivers with three or more people in the car will not be tolled, provided they acquire the new EZ Pass Flex and toggle it to HOV mode.
The project was built using private and public funds, with $588 million coming from the U.S. Department of Transportation's Infrastructure Finance and Innovation Act loan program, $300 million in other federal aid and $600 million in private activity bonds. The Virginia Department of Transportation and Capital Beltway Express will fund the remainder of the project.
"These public-private partnerships hold the key to leveraging scarce resources at the state level for major transportation projects," McDonnell said.
"You see pavement, I see jobs. We all know road construction does a lot of good when it comes to putting people back to work," he said. "During the heart of this economic crisis over the last four years, the 495 Express Lanes project pumped more than $3.5 billion into Virginia's economy, and put more small businesses and women- and minority-owned businesses to work than any other transportation project in the history of Virginia. More than 200 Virginia-based contractors worked to deliver improvements to the Beltway."
Though McDonnell was present at Tuesday's ribbon cutting, Rep. Gerry Connolly also gave credit to past officials in the creation of the express lanes.
"Three governors, including our current governor Bob McDonnell have worked hard to make today happen, as well as lots of local and state officials across party lines to create a new model for creating infrastructure in Virginia," Connolly said. "This project was also able to get funds to repair 58 bridges and ramps approved in an ancillary part of this project, $300 million that we couldn't afford in the public sector."
FEDERAL HIGHWAY ADMINISTRATOR Victor Mendez said the effects of the project will reach much farther than just the areas surrounding the Beltway.
"The impact that this project will have is not just the commonwealth, but the entire capital region. People all over the country are looking at this, because it is the model of what could happen around the entire nation," he said. "Transportation is supposed to connect people, places and economies, but we're also looking for new ways to make those connections better."
More information on the 495 Express Lanes, including past and present toll rates and live traffic footage of current Beltway conditions, can be found at www.495expresslanes.com.