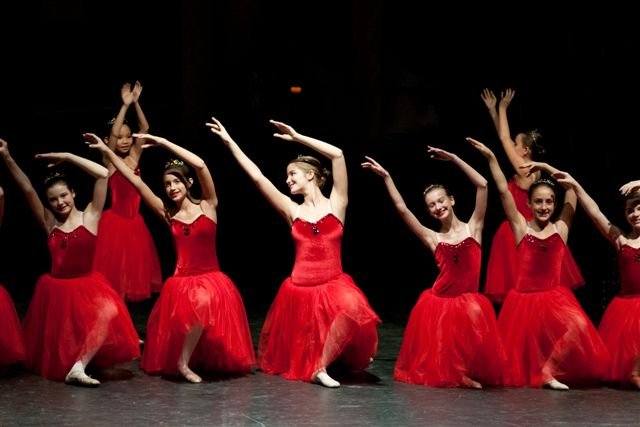 The School of Theatrical Dance (SOTD) and its performing wing, Great Falls Dance Theatre, present the seventh annual performance of their original production of Christmas Eve at the Nutcracker Club, a fanciful yet reverent sketch of Christmas Eve, set in a 1940s USO Hall, in the imaginary town of Rockwell.
Photo Gallery
Nutcracker Club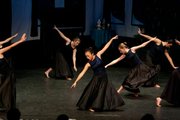 Click Photo for Flash
Where and When
When: Saturday, Dec. 8, at 1 p.m. and 5 p.m.
Sunday, Dec. 9, at 1 p.m.
Where: The Waddell Theater on the Loudoun Campus of Northern Virginia Community College
Tickets*: Early ticket purchase, $20; general admission, $22;
groups of 10 or more, $15; veterans, military families, children under 12 and seniors, $10; scouts and chaperones, $5; special olympic families and volunteers, free.
Please call 703-759-5652 or e-mail to Tdance.inc@verizo... today to reserve your seats and to let us know if any wheelchair accommodation is necessary.
Christmas Eve at the Nutcracker Club, conceived and directed by Theresa D'Alessandro, features the talents of SOTD youth and advanced dancers, as well as guest artists and singers. The show contains a variety of classical ballet, tap, jazz and modern dance; and a range of music from Tchaikovsky to Duke Ellington and Benny Goodman to Mannheim Steamroller.
The story begins as Sergeant Kristopher bids farewell to his beloved wife to report for duty. Snowflakes swirl gracefully to Tchaikovsky's classic score; and the fanciful snowmen that dot the landscape dance to "Let it Snow." Partygoers arrive for the Christmas Eve party at the Nutcracker Club. They are entertained by the Rockwell Dance Theater, featuring classical variations from the traditional Nutcracker Ballet; and treated to a medley of 40's songs by officers attending. Admiral North shares the classic, "What is Santa Claus?" with the children. When left alone, Sergeant Kristopher thinks of his girl back home.
At the end of the evening, the guests exchange gifts, and leave the hall to the quiet of the glowing "Candelabra."
But once the candles are out the real fun begins!
Mischievous elves scurry to fill the stockings, to Benny Goodman's, "Sing Sing Sing." And the ornaments, toys and decorations come to life. Act II includes the spicy Gingerbread Cookies, the Tinsel dance to "It Don't Mean a Thing, If it Ain't Got That Swing," as well as a powerful modern work to Mannheim Steamroller's, "Carol of the Bells." Finally, "Standing with Angels," a choreographic tribute to the men and women of the armed services, who have sacrificed so much.
Joining the dancers are artists, faculty members and alumni Ashley O'Banion and Florian Rouiller, who have danced with Merce Cunningham Dance Company, Ohio Ballet, Joffrey Ballet of Chicago, Milwaukee Ballet and Goteborg Ballet, among others. Joining for a third season is Michael Stokes, finalist "So You Think you Can Dance." New to the cast is the local a capella group "Retro."