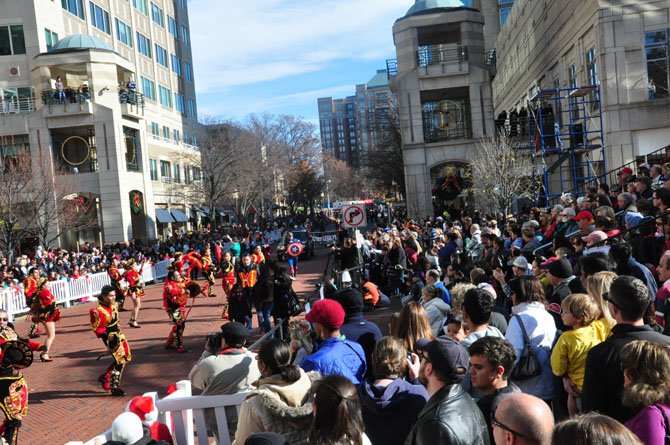 McLean — Thousands of people spent the early part of their Black Friday spread out along Market Street for the annual Reston Holiday Parade. Organizations from across the area made their way down .3 miles of the road carrying balloons, performing and interacting with the crowd.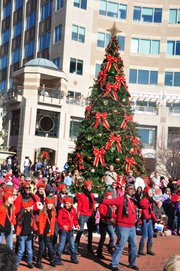 "There are about a thousand reasons I love living in Reston Town Center, and right at the top of the list are the big events and festivals," said Eva Sartorious, who has lived in Reston for the past three years. "I love being able to walk out my front door early morning the Friday after Thanksgiving and get my spot for the parade, then I can just walk back in and rest, then come back for the tree lighting. It's fantastic."
Retired South Lakes Principal Bruce Butler and his wife served as the grand marshal for the parade, and they were followed throughout the morning by a variety of different acts. Local cheerleading groups, martial arts students and dance studios were able to stop at a few points along the way for a brief performance.
"The best part of the parade are the live performances, it's a lot of fun to see such a variety of acts in one place," said Earl Sheridan of Reston. "The martial arts ones are usually the most radical, but the dance groups are really cool too."
Sherman Roy, 6, had a favorite group of performers as well.
"It was awesome when the superheroes came out," he said, referring to a group that features Batman, Superman, Captain America and Wonder Woman, among others. "The costumes were really good, and they were really nice to walk up to us and say hello. I got to shake Captain America's hand."
Members of the Herndon and South Lakes High School marching bands also performed, as well as members of local schools' Junior ROTC programs. Local scout troops carried the large, classic Thanksgiving Day parade-style balloons.
"This is a fun event because almost all of the participants are people involved in local businesses, or attend the same schools our children do," said Austin Kaspers, whose neighbor is a member of the Herndon Marching Band. "I makes it very easy to develop a sense of community when you recognize the performers and see them show off their skills, whether its in a drum line, or part of the JROTC rifle team."