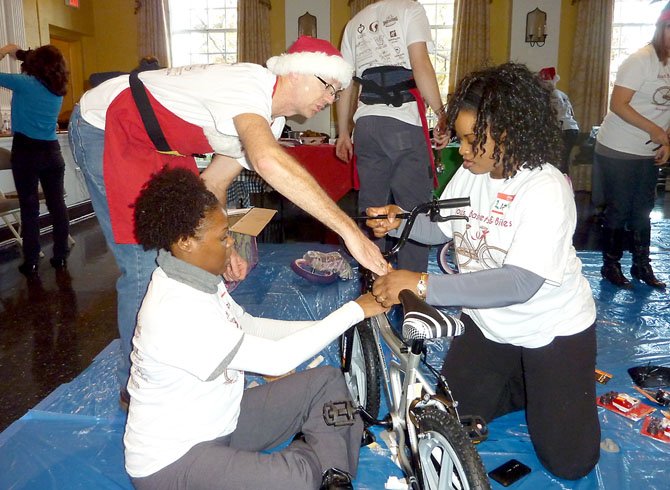 Holiday spirits were high as the Alexandria Convention and Visitors Association launched Alexandria Cares, a corporate community service program in partnership with the nonprofit Get Out and Give Back to offer corporate groups the opportunity to include service projects in their Alexandria-based business meetings.
"We've seen an increase in demand for social responsibility," said ACVA's Claire Mouledoux. "Our sales team launched Alexandria Cares to meet this need and provide a meaningful teambuilding experience, which is a growing trend in the meeting industry."
Held Nov. 8 at historic Christ Church, the kick-off event called Bows, Baskets and Bikes gathered DC-area event and meeting planners to help build bicycles for needy families through Christ Church's holiday initiative, the Christ Child Project.
Photo Gallery
Alexandria Cares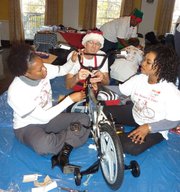 Click Photo for Flash
Alexandria Cares was created in collaboration with Alexandria-based Get Out and Give Back, a nonprofit matchmaking organization that pairs businesses with philanthropic opportunities. Founded by retired Air Force Colonel Jane Hess Collins, the program includes a variety of service project options, including bowling parties with nonprofit clients, holiday service events and personalized project requests made by the business or service organization.
"AVCA puts clients in touch with me," said Collins. "And while corporations are charged a fee for the service event, all proceeds go back to the community through the Hess Collins Family Fund with ACT."
Collins and ACVA have already partnered the Coca-Cola Company and the Greater Federation of Women with Friends of Guest House.
"We have wanted to offer CSR [corporate social responsibility] services for a long time," said ACVA vice president of sales Lorraine Lloyd. "It's a win-win for the community to benefit as meeting attendees get an even richer experience from their visit to Alexandria."
For more information about Alexandria Cares, call 703-652-5369 or visit www.MeetAlexandriaVA.com. To learn more about Get Out and Give Back, visit GetOutandGiveBack.com.