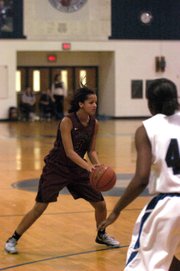 Mount Vernon — After Tuesday's season-opener, West Potomac girls' basketball coach David Sawczuk made an effort to track down Mount Vernon head coach Courtney Coffer. Sawczuk thanked Coffer for Mount Vernon's intense effort and hoped the experience would help West Potomac down the road.
One of the teams in the Route 1 rivalry will be competing for a Northern Region championship this year. The other is looking to build on last year's two-win season. It wasn't hard to figure out which was which.
The Mount Vernon Majors defeated the West Potomac Wolverines, 82-39, on Nov. 27 at West Potomac High School. Mount Vernon, which fell one win shy of the state tournament last season, used full-court pressure early to build a commanding lead before cruising to victory. The Majors forced 40 turnovers and had had six players score in double figures.
"Most importantly, the team defense was the thing I was proud of the most," Coffer said. "They're playing good basketball right now. Hopefully, we can continue to get better and better."
Senior guard Kelly Loftus led the Majors with 17 points. Senior guard Taylor Dunham and junior guard Chanel Shannon each had 14 points, and senior guard Tiffany Webster, junior forward Samantha Porter and freshman guard Erin Irving each had 10.
Shannon knocked down a trio of 3-pointers.
"Chanel Shannon was incredible tonight," Coffer said. "She's the X-factor for us. When she has it going, this basketball team has a whole extra dimension that makes us that much better."
"Most importantly, the team defense was the thing I was proud of the most. They're playing good basketball right now. Hopefully, we can continue to get better and better."

— Mount Vernon girls' basketball coach Courtney Coffer
Mount Vernon built a 29-5 first-quarter lead by forcing 16 turnovers in the opening eight minutes. West Potomac struggled against the Majors' full-court press and didn't reach double digits on the scoreboard until a free throw by Tayla Dawson made the score 32-10 with 6:04 remaining in the second quarter. The Majors held a 50-14 halftime advantage and led by as many as 53 points in the second half, when a free throw by junior forward Erica Irving made the score 79-26.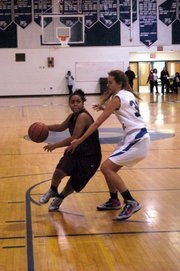 Mount Vernon finished with 30 steals, including 10 by Loftus.
"It gives us confidence," Loftus said of the team's pressure defense. "Turnover after turnover, we get layups off of it."
Irving grabbed 10 rebounds for Mount Vernon and Porter finished with six.
West Potomac sophomore forward Maddy Zdebski scored a team-high 13 points and grabbed seven rebounds. Senior forward Blossom Pierre scored 11 points and senior guard Asia Mills-Burch added eight.
Sawczuk returns for his second season as head coach. Last year, he was the Wolverines' third head coach in as many seasons.
Sawczuk is trying to institute "a lot more accountability and responsibility for [the players]," he said. "Until now, they've never been held accountable because it's been a different coach every year. So now it's accountable for being on time, working every day, showing up and doing what you're asked to do — the basics. But also for us, it's accelerating the pace of the game."
Mount Vernon will travel to face Oakton at 7:30 p.m. on Tuesday, Dec. 4. Oakton was the only team to defeat the Majors last season, beating Mount Vernon twice.
West Potomac will face Falls Church in a tournament at Stuart at 5:45 p.m. on Thursday, Nov. 29.