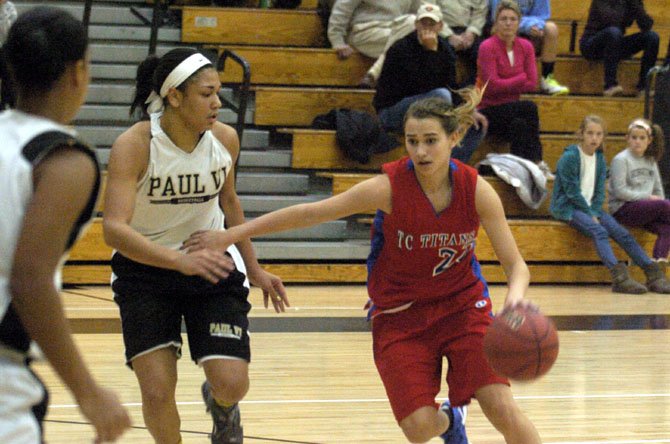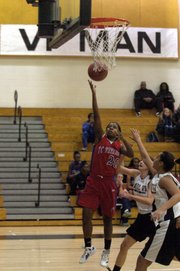 The T.C. Williams girls' basketball program lost six seniors, many of whom were key contributors, from last year's team that won 19 games and reached the Northern Region quarterfinals. This year's team is light on depth and experience, but the Titans' goal remains the same.
"We still," junior guard Angie Schedler said, "want to beat West Springfield."
T.C. Williams has its sights set on a Patriot District title, which would require dethroning three-time champion West Springfield. The Titans entered last season determined to knock off the Spartans, but ended up losing each of the teams' three meetings, including the district tournament championship game. West Springfield won the first meeting, 49-48, despite standout point guard April Robinson not playing due to injury. The Spartans won the second game, 40-37, and the district final, 78-63.
West Springfield beat T.C. Williams seven times during the last two seasons and has won its last nine games against the Titans. TC last defeated West Springfield in the 2009 district championship game. TC head coach Kesha Walton described the Titans as being "so close, yet so far away" from winning a district title.
If TC is going to make a run at a district championship, the Titans will need several players to grow into more significant roles. TC graduated its primary ball-handler (point guard Sofie Schedler) and top offensive threat (guard Gaby Moss), along with other key contributors.
"We had some of the top guards," Walton said. "Our backcourt was vicious last year."
Taking over ball-handling duties will be 5-foot-8 sophomore Rejoice Spivey, who saw significant playing time as a freshman.
"She's stepped right in," Walton said, "and accepted the challenge."
Junior guard Angie Schedler (5-9) is the Titans' top perimeter-shooting threat. She saw significant time as a sophomore but will likely need to score more for TC to be successful.
"We still want to beat West Springfield."

— T.C. Williams junior guard Angie Schedler
Sophomore point guard Megan Laychak (5-4) is one of the team's top defensive players. Senior guard Christian Roberts (5-11) will be looked upon to do a little of everything.
"She's kind of a special player because she can play 1-5," Walton said. "She can handle the ball, she can shoot, she can rebound, she can play down low [and] she can post up. … I'm expecting her to step up and kind of help take the other ones under her wing and guide us."
Senior forward Baylee Simpson (5-9), juniors Ebonee Green (6-0 forward) and Amon Lipford (5-9 forward), and sophomore Kaylah Davis (5-8 guard) are also on the team.
TC's roster has just two seniors and is composed of just nine players. While Walton said the team's bench could grow around midseason, she's relying on the group she has now to be mentally and physically tough.
"They definitely have to stay in shape," Walton said. "We harp on that now. We've got to be able to knock down shots in late quarters of the game. They've got to be able to play for 32 minutes."
Roberts said the Titans will have to overcome fatigue.
"When we're tired," she said, "we've got to suck it up."
TC will open the season on the road against Edison on Dec. 7. The Titans' first meeting with West Springfield is Jan. 4 at home.