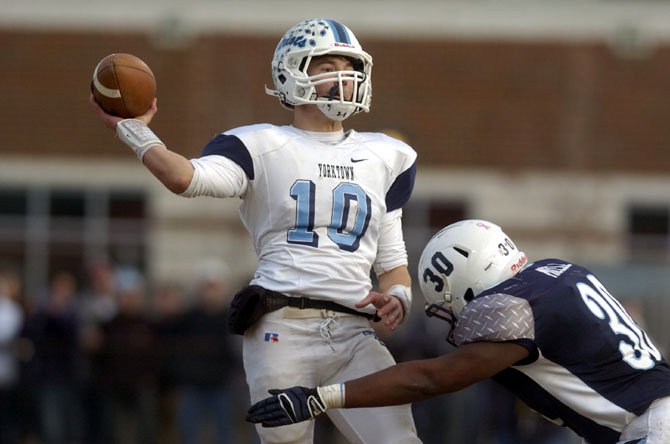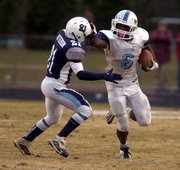 After surrendering a touchdown to Stone Bridge on the opening drive of the Division 5 Northern Region football final, Yorktown found itself backed into a third-and-17 on its own 30-yard line.
Facing the potential of being buried early, the Patriots responded with a momentum-swinging highlight play.
Quarterback Will Roebuck threw a pass to Nick Yore. The senior receiver then lateraled to running back M.J. Stewart, who raced down the left sideline for a game-tying touchdown. The hook-and-ladder covered 70 yards and jump-started the Patriots against a Stone Bridge program that had won five of the previous seven region titles.
For the next 10 minutes, things went about as well as they could for Yorktown. Stone Bridge turned the ball over four times and the Patriots turned each Bulldogs miscue into points. With 9:30 remaining in the second quarter, Stewart scored his third touchdown of the afternoon, giving Yorktown a 29-7 lead.
Stewart walked toward the sideline and saluted Yorktown fans as the Patriots appeared capable of upsetting a Northern Region powerhouse.
"We had all the hype," Stewart said after the game. "We did what we wanted to do initially: come out, play with fire, play with intensity and we did that."
Unfortunately for Yorktown, Stone Bridge started to play like a program that appeared in four state championship games in the last eight years.
The Bulldogs pounded the ball on the ground and slowly chipped away, cutting the Yorktown lead to 29-22 at halftime. Fifty-five unanswered points later, Stone Bridge was on its way back to the state playoffs.
No. 1 Stone Bridge defeated No. 2 Yorktown, 69-50, on Friday afternoon in Ashburn. After a slow start, the Bulldogs built a 62-29 lead on their way to a sixth region championship in eight years. Meanwhile, the Patriots finished as the Northern Region runner-up with a 12-1 record for the second consecutive season.
"When we got up 29-7, I thought, well, maybe [we could win]," Yorktown head coach Bruce Hanson said. "But [the Bulldogs are] smart guys. They just lined up and just kept pounding us up there. They didn't panic."http://connection.www.clients.ellingtoncms.com/admin/news/story/77507/#
"When we got up 29-7, I thought, well, maybe [we could win]. But [the Bulldogs are] smart guys. They just lined up and just kept pounding us up there. They didn't panic."

— Yorktown football coach Bruce Hanson
Stone Bridge took control of the game in the third quarter. Trailing 29-22, the Bulldogs forced a Yorktown three-and-out on the opening possession of the second half. Rassaun Goldring returned the ensuing punt 41 yards for a touchdown, cutting the Patriots lead to one. Yorktown lost a fumble on its next offensive play, leading to a 1-yard touchdown run by Stone Bridge's Christian Strahin, which gave the Bulldogs a 34-29 lead they wouldn't relinquish.
Stone Bridge outscored Yorktown 33-0 in the third quarter, during which the Bulldogs dominated the field position battle.
"I think we got a little depressed at halftime that they had come back like that," Hanson said. "We came out and they just kept kicking the ball in the end zone and we couldn't get a first down. That's the difference in the game."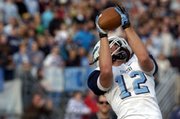 While Yorktown fell short, the Patriots put up a strong offensive effort. Yorktown was one of only two teams to score more than 14 points against Stone Bridge this season. The previous high was 28 by Fairfax on Nov. 2.
Stewart had another big game for Yorktown, amassing 233 yards of offense and five touchdowns. He carried 20 times for 141 yards and three touchdowns, and had 92 yards and two scores receiving.
Roebuck completed 14 of 28 passes for 315 yards, four touchdowns and no interceptions against what he called "the most prolific pass [rush] I've seen in my life." Along with the hook-and-ladder score, Roebuck threw a 15-yard touchdown pass to Stewart, a 34-yard scoring toss to Nick Yore and a 70-yard touchdown pass to Micah Gregory.
"We had a bunch of big plays that worked for us," said Roebuck, a junior. "… Just the experience of playing in big games, I think that helps a lot [for the future]."
Yore caught five passes for 124 yards. Gregory had five grabs for 99 yards.
"It feels good from an offensive standpoint," Yore said. "… We were able to throw the ball on them when they came up to stop M.J. and [fullback] Arturo [Brown]."
On defense, Stewart intercepted a pass and recovered a fumble for Yorktown. John Brennan, Eric Stahr and John Yoest also recovered fumbles for the Patriots.
In the last three seasons, Yorktown posted a 33-4 record, won three National District titles and reached the region championship game twice.
"To make it [to] back-to-back [region finals] and have two undefeated [regular] seasons is great," said Yore, a senior. "[The] program is on the rise. … It feels good to put Yorktown on the map and having people talk [about] us."