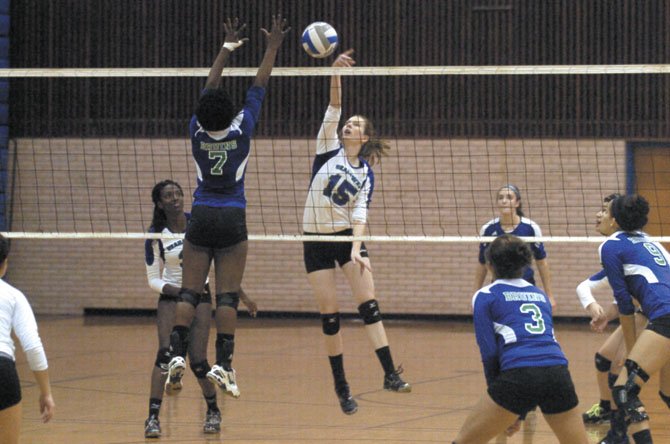 The South Lakes volleyball program on Sept. 6 defeated Northern Region power Langley for the first time in six seasons under head coach Cheri Hostetler. With the majority of their Liberty District schedule remaining, Hostetler has her sights set on a strong finish.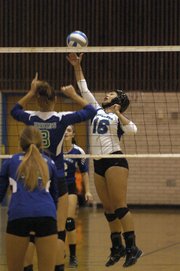 After multiple seasons in the bottom half of the district standings, Hostetler said her goal for the remainder of the 2012 campaign is for South Lakes to finish in the top half of the eight-team Liberty District. The Seahawks are off to a 1-1 start in district play, having faced the two teams that have dominated the Liberty for the last eight seasons: Stone Bridge and Langley. The two programs combined won the last eight district titles (Stone Bridge has won six, including the last five) and have met in the district tournament final each of the last six years.
This year, South Lakes traveled to Langley and defeated the Saxons, 3-1. On Sept. 20, the Seahawks traveled to Ashburn and were swept by Stone Bridge, which is undefeated.
"We have Fairfax, Marshall, Madison and McLean all left—and Jefferson," Hostetler said. "So we'd just like to win those and finish in the top half of the district."
On Saturday, Sept. 29, South Lakes competed at the Hayfield Invitational. The Seahawks went undefeated in pool play, beating Lee, Hayfield and Edison, but lost to eventual tournament champion Forest Park in the semifinals.
"This is always better than just a Saturday practice," Hostetler said. "You get to see a lot of different teams when you come to a tournament like this that we normally wouldn't get to play. Forest Park, they're preparing us for our tough district, that's why we like to come and play teams like that."
Through the season's first 10 matches, freshman opposite/middle hitter Vela McBride led South Lakes with 47 kills and 27 blocks. Senior captains Annemarie Bresson and Dory DeWeese had 36 and 33 kills, respectively. Senior opposite hitter Maddie Youngren had 30 kills.
Senior outside hitter Cloe Traylor had 29 kills.
"She's our go-to person," Hostetler said. "If we want to get a kill, we go to Cloe."
Junior opposite hitter/setter Rachel Wood had 108 assists and sophomore setter Jackie Trautman had 71.
South Lakes defeated Mount Vernon, 3-0, on Oct. 1, improving its record to 10-7. The Seahawks will host Falls Church at 7:15 p.m. on Thursday, Oct. 4, and will resume district play on the road against Marshall on Oct. 9.