Alexandria — The Art on the Avenue annual arts festival is one of the largest arts festivals in the area, and it's conveniently located in the heart of Del Ray. This year's event will take place Saturday, Oct. 6, 10 a.m.-6 p.m., rain or shine.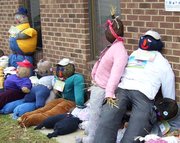 More than 50,000 people attend this annual event — now in its 17th year. Neighbors and local businesses come together to make this event a community effort celebrating the arts. Local artisans and arts vendors will line the Avenue, showcasing their work and products, everything from artwork, handmade blankets and clothing, woodwork pieces, jewelry, accessories and more. Bands and musicians will perform music of all genres at stages throughout the festival.
But the place to be for families with children is the Kids Art Korner — a designated interactive children's art center. It will offer a variety of children's art activities (most are suitable for toddlers to elementary-age school kids) for children to make small, easy-to-do projects onsite and then take them home.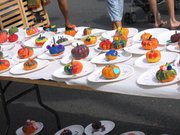 The Kids Art Korner will be located on the field adjacent to the Mount Vernon Recreation Center. More than a dozen local non-profit groups will each provide a different art activity for kids. Pop art, sock puppets, and face painting are just some of the activities that kids will enjoy. In addition, kids can also display their artistic side by painting and decorating their own pumpkins. And back by popular demand is the "make-your-own scarecrow" activity, which will run from noon-4 p.m.
Visit www.artontheavenue.org.