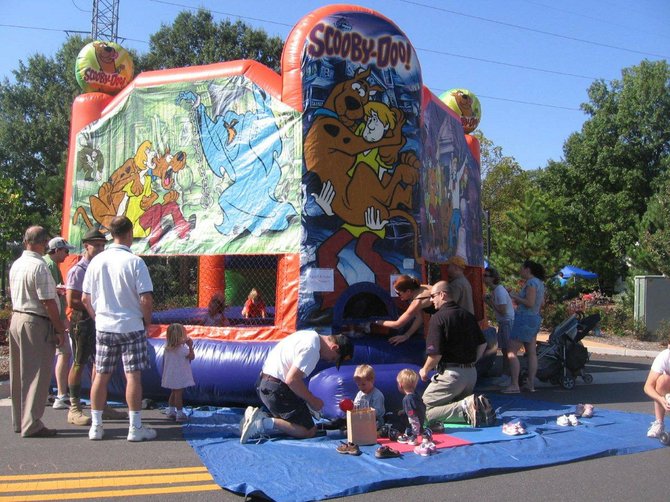 It's time for oompah music, wurst and beer. Add a diversity of children's activities, a marketplace and live entertainment for kids and grown-ups and you get the 5th Annual Oktoberfest sponsored by the Tysons Regional Chamber of Commerce [TRCC] and the Town of Vienna. The all-day festival takes over the Town Green and the historic Church Street corridor on Saturday, Oct. 6, from 11 a.m. to 7 p.m.
"Oktoberfest is the best that Vienna has to offer," said TRCC Oktoberfest Chair, Diana Carlin. "It's a small-town, family-focused event for the whole community."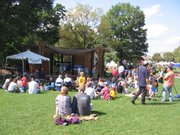 Live entertainment is presented on the biergarten's main stage and on the children's stage. New this year to the main stage is a German band comprising U.S. military musicians, playing from noon to 2:30 p.m.
The size of the "biergarten" was expanded in 2011. For 2012, the biergarten hosts five food vendors and sells four different Oktoberfest beers. Outside the biergarten are 14 additional food vendors and approximately 75 marketplace vendors, such as The German Gourmet, offering products and services. Even politicians are staking out space. "It is an election year," Carlin said.
For children, the highlight of the festival is their own universe spinning on the Town Green. Besides the children's stage presenting dance and other shows, there's a moon bounce, inflatable slide, arts and crafts, and Lego-building and face-painting, all of which are free. Rock-climbing, outside the perimeter of the children's play area, has a fee attached.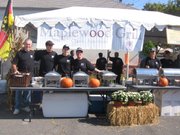 For older children, laser tag--behind the caboose along the W & OD trail--is very popular, Carlin said. "It's always a big hit."
On-tap beer comes in four varieties: Hofbrau Oktoberfest, Port City Oktoberfest, Lost Rhin O'fest and VictoryFest Bier. Biergarten food vendors include Vienna's own Bazin's, Maplewood Grill and Plaka Grill. Glory Days Grill returns and Sherry's Crabcakes makes its Oktoberfest debut.
German food will be readily available, Carlin said. Bazin's and Maplewood Grill will sell bratwurst, along with other dishes. German food will be available from other vendors, as well, she said. From tacos by Alegria and La Sandia and pasties from The Pure Pasty Company, to pizza, smoothies, barbecue, burgers and funnel cakes, there's pretty much a food to stimulate anyone's palate. Caffe Amouri will offer seasonal accents of the shop's freshly-roasted coffees.
Live entertainment schedule 2012 Oktoberfest
Children's Stage: 11:15-11:45 a.m., Classic Tales & Tunes; noon-12:30 p.m., Hillary's Dance Company; 12:45-1:15 p.m., VES Jammers; 1:30-2:30 p.m., Vienna Dance Academy; 2:45-3:15 p.m., Enshin Karate; 3:30-4:30 p.m., Cuppett Performing Arts Center; 4:45-6:45 p.m., TBS Band Main Stage: 11 a.m.–noon, School of Rock; 12:10–2:30 p.m., German Band; 2:45–3:45 p.m., Kitty and the Fat Cats; 4:00–5:15 p.m., Mudlark; 5:30–6:45 p.m., Fat Chance.
For the second consecutive year, Govan Builders of Vienna is Oktoberfest's main sponsor.
A portion of the festival's proceeds go toward the renovation of Vienna's historic "Little Library." Historic Vienna, Inc. postponed the historic designation plaque originally scheduled for Oct. 6, 2012.
"This is a nice opportunity to bring the business community and the local community together," said Carlin. "And it's an opportunity for the Chamber to give back to the community that supports local businesses."
For more details on Oktoberfest, go to www.viennaoktoberfest.com.