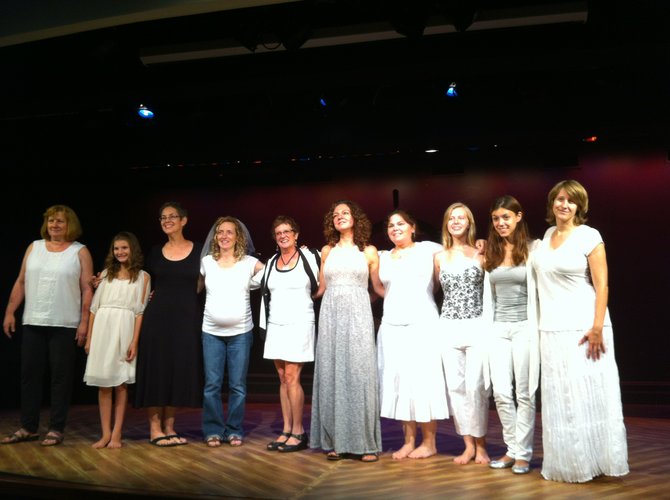 Local Oakton playwright Carol Lee Campbell has taken stories of real women's journeys from adolescence through later stages of life and used them to make a theatrical production called "The Goddess Diaries."
After a well-received run at the recent 2012 Capital Fringe Festival in Washington, D.C. under the direction of Stacey Jones, "The Goddess Diaries" will be performed at George Mason University with proceeds benefiting the Mason Victims of Violence Fund. The Fund provides support and assistance to student victims of sexual and domestic violence.
Where and When
"The Goddess Diaries" at the Harris Theater, George Mason University, University Drive, Fairfax. Performances: Oct. 12 & 13, 2012 at 7:30 p.m. $5-$20. 703-993-2787 or visit www.cfa.gmu.edu/t.... Note: Recommended for ages 13-plus.
Campbell has melded stories she has gathered into eight different vignettes that include dramatic and comedic stories along with music and choreography by Sabrina Haritos with a narrator to stitch together the evening. Each story is delivered by a woman of a different age reflecting upon what has happened and its effects.
Both Campbell and Jones describe the production as "inspiring and compelling." "The Goddess Diaries" was first presented at the Unitarian Universalist Congregation of Fairfax in Oakton in 2009. Under Campbell's guidance, the show "blossomed into a full production."
According to Campbell, a building structure for the performance was "the positive challenges as she listened to women share life stories with her." She used the collected stories to "construct upon ancient Celtic notions of building shared wisdom through narrative. "Since the stories are human stories they are for everyone."
Stacey Jones, a Luther Jackson Middle School teacher, has been associated with "The Goddess Diaries" almost since the beginning. She worked with Campbell to further develop theatrical story arcs to make them an organic and real whole.
For Jones the idea is to make the production into one that depicts "different pictures of women's lives as a fulfilling experience and written to everyday women." It is a show that both women and men will find meaningful either as a "mirror" or as "a magnifying glass."
Sarah Jebian, a professional performer now living in Oakton, will direct the performance. For Jebian "taking personal stories and developing into a theatrical performance connects with audiences. They can emotionally relate to the life lessons."
According to Hope Savolainen, education coordinator, George Mason University Sexual Assault Services, the performance gives the community "an opportunity to support survivors of sexual assault, stalking and dating/partner violence. It helps to shatter the silence that too often surrounds these issues."