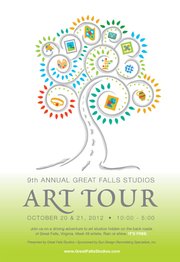 Great Falls Studios, a community arts organization with more than 100 artist members in Great Falls, announced this week that the home remodeling company Sun Design has agreed to sponsor the art group's Ninth Annual Great Falls Studios Tour, Oct. 20 and 21.
"Sun Design's financial commitment to our organization is in five figures. In fact, this is the biggest grant we've ever received, and it goes a long way toward propelling our already-successful annual tour to the big leagues," said Laura Nichols, president of Great Falls Studios. "It's a wonderful example of an area business teaming with a community group in ways that benefit both."
The Studios Tour is a free driving event, in which visitors from around the region explore the creative process by meeting local artists in home-based art studios and other art venues throughout Great Falls. In its first eight years, it has generated more than 21,500 visits to working art studios in Great Falls, where artists give demonstrations and show how their studios contribute to their creative output.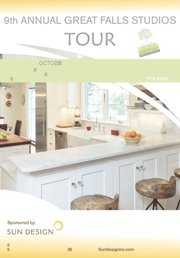 As part of its partnership arrangement, Sun Design will hold its own concurrent tour—featuring an open house in which visitors can see a home it has remodeled and ask questions directly to Sun Design craftsmen. Rooms in two additional houses owned by artists on the tour have also been renovated by Sun Design. "For anyone who is considering having their home reinvented to fit their lifestyle, this is an excellent opportunity to speak with experts, and potentially clients, who can educate you on the process and experience as a whole," said Beth Walters, Sun Design's director of communications. "We're proud of our work and our clients are proud too."
As part of their joint efforts, Great Falls Studios and Sun Design have published a tour brochure, complete with artist bios and artwork samples of 49 participating artists, plus a map. Twenty-six thousand of these will be distributed in Great Falls and nearby communities, and to tour visitors. There are two versions--one with a Great Falls Studios cover, the other with a Sun Design cover.
The twin tours will be on Saturday and Sunday, Oct. 20 and 21, from 10 a.m. to 5 p.m. For more information, go to www.GreatFallsStudios.com.