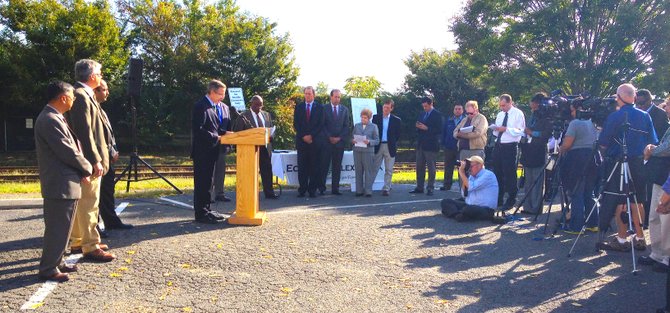 Seeking to avoid the problems that emerged on the waterfront earlier this year, city officials have taken an early lead meeting with residents in North Old Town to start planning for the future of a now-shuttered coal-fired power plant.
The 25-acre property is currently operated by Houston-based GenOn, which has an 88-year lease with Washington-based Pepco. Instead of meeting secretly with developers before drafting the small-area plan, which happened in advance of the controversial waterfront plan, city officials now say they want to keep lines of communication open between neighborhood residents and make sure the city is being more transparent.
"There will not be anything going on at City Hall that you don't know about," Deputy Planning Director Karl Moritiz told members of the North Old Town Independent Civic Association this week. "If you are not hearing something, it's because nothing is happening."
Mayor Bill Euille assured the residents that he has not heard from any developer who has plans about the 25-acre site other than the Clean Skies Foundation, a nonprofit organization with ties to the natural gas industry. Last year, weeks before GenOn announced the plant would be closing, the foundation issued a concept plan for transforming the site into a mixed-use community. Since that time a number of possibilities have been raised for the future of the site - a new home for the Corcoran Gallery of Art, a college campus, a convention center, a resort, soccer fields and housing are some of the possibilities that have been raised.
"This is not just a once-in-a lifetime opportunity, it's a once-in-history opportunity," said North Old Town resident Ernie Lehmann. "We need to think big."
THE FUTURE OF THE 25-acre site will be determined by GenOn, which will take the lead in finding a developer, and Pepco, which must approve the deal. Like a warring couple preparing for a bitter divorce, GenOn and Pepco need to find some way of dissolving the ties that bind them and coming to some resolution before parting company. City officials and neighborhood residents will have to live with the consequences.
"They run a power plant, and they're not developers," said Planning Director Faroll Hamer. "But we can certainly encourage Pepco to put out an RFP for mixed-use development."
The land is assessed at $54 million, but that's at its current "utility" zoning. City officials say it will be much more valuable once it's rezoned for residential or mixed-use. Cleaning up the site is likely to take a year or two, so city officials say the small-area planning process isn't likely to begin until next year. But neighborhood residents in North Old Town have already created new lines of communication with city officials so that mistakes of the waterfront plan are not repeated at the GenOn site.
"No one has been at our doors yet about this," Euille assured North Old Town residents. "And when that happens, you will know about it."
ENVIRONMENTALISTS ARE also looking toward the future. Organizers with the Sierra Club see the shutdown of the Potomac River Generating Station as a major victory in a protracted war against coal. Along with the GenOn plant, Sierra Club leaders point out, nine other coal plants operated by Dominion Power are scheduled to retire or transition from coal in Virginia.
Sierra Club leaders have been critical of the company's long-term plan, which focuses on natural gas with a minimal investment in solar and wind power. Now that GenOn has initiated a "cold shutdown" of the infamous waterfront power plant, Sierra Club leaders hope to use the momentum to pressure Dominion to take action and increase the percentage of clean energy in its 15-year plan, which must be approved by the State Corporation Commission.
"We should build on this community victory and continue to come together and tell Dominion to invest in a clean energy future with Virginian-made wind and solar power," said Phillip Ellis, organizer for the Sierra Club. "We hope Dominion will seize this opportunity to invest in clean, renewable energy like wind and solar in Virginia that will create new jobs in the state."