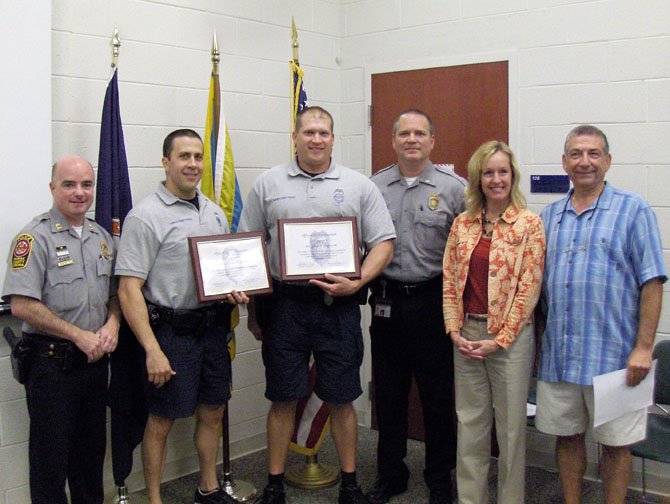 Chantilly — Two police officers who worked together to reduce d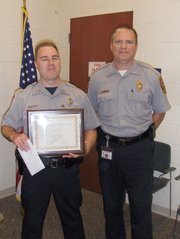 rug dealing and other criminal activity in a Chantilly community were honored recently as the Sully District Station's Officers of the Quarter. They are PFC Adam Jantosciak and MPO Garrett Polowy.
The officers were recognized for their actions during the second quarter of this year (April, May and June) and were feted during the Sept. 18 meeting of the police station's Citizens Advisory Committee (CAC).
Recommending them for the honor was 2nd Lt. Paul Cleveland of the station's Neighborhood Patrol Unit. Both men are members of his unit and, in his June 26 letter to the station commander, he wrote that they've done "exemplary work."
He said they worked tirelessly for six months to rid the Chantilly Lace community and surrounding areas of "narcotics traffickers and problem residents committing criminal activity." First, they compiled a list of suspects.
Then the officers gathered intelligence through "observations, surveillances, criminal records, probation and parole, housing authority, community contacts and station-level resources," wrote Cleveland. Using the knowledge they'd obtained, they focused their efforts on the most problematic residents and suspected traffickers and formed a plan to address the issues.

"Through countless hours of conducting surveillance, the officers observed individuals conducting criminal activity and narcotics-related activity," wrote Cleveland. Afterward, the pair conducted "traffic and subjects stops and gathered intelligence on suspected narcotics traffickers."
As a result, they arrested several people and did thorough interviews of them. "[These] interviews ultimately confirmed the intelligence already known and provided some new information," wrote Cleveland. "The officers also used their resources and reached out to [the] Narcotics Unit and assisted those detectives with furthering their investigations."
Several of these investigations led to the execution of search warrants requiring "a great deal of coordination with numerous entities throughout our agency, such as Narcotics, Money Laundering, SWAT, CIB and CIS," wrote Cleveland. "On several occasions, the search warrants yielded positive results for narcotics, weapons and stolen property."

Cleveland said the efforts of Polowy and Jantosciak led to numerous arrests and convictions in Fairfax County General District and Circuit courts. "The officers also followed up after gaining the convictions and passed the information to the proper housing authorities," wrote Cleveland. "These problem residents are currently in the process of being banned and removed from assisted living because of their criminal activity."

Overall, he added, because of the two officers' actions, the residents of the Chantilly Lace neighborhood are enjoying a safer community that is "slowly ridding itself of the criminal element." Although that may never be completely accomplished, wrote Cleveland, that community is "far better off than it was at the beginning of this year."

To date, several gang members have been arrested and removed from the property, narcotics have been confiscated and weapons have been seized — including a short-barrel shotgun owned by a drug dealer. Many people who don't belong in Chantilly Lace have been banned from the area, and partnerships have been formed with that community's property management, the Fairfax County Housing Authority, the county zoning department and HUD housing.

"The results of Polowy's and Jantosciak's efforts have been very noticeable in reduced calls for service [in Chantilly Lace], and the number of street robberies has decreased," wrote Cleveland. "The officers have partnered with several other entities to continue investigations that will lead to numerous other arrests."

"I believe this shows what two highly motivated officers can do to have a positive impact within a problematic community," he continued. "The efforts of these two officers are worthy of Officer of the Quarter consideration. Their continued efforts within this community will yield very positive results. I commend them for their efforts and believe they are deserving of this award."