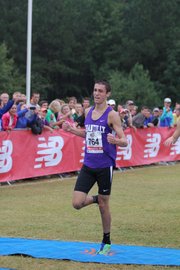 Chantilly senior Sean McGorty posted the nation's fastest high school 5K time during the weekend when he placed first at the Great American Cross Country Festival last weekend in Cary, N.C., with a time of 14 minutes, 43.6 seconds.
McGorty's performance helped the Chantilly boys' team place fourth at the event, finishing behind three teams ranked in the milesplit.com national top eight. Chantilly entered the meet ranked No. 24 in the nation.
McGorty, who was ranked No. 8 nationally at the time of the race, edged No. 3 Jacob Thomson of Holy Cross High School in Kentucky by less than a second.
After McGorty, Chantilly's Logan Miller finished 12th (15:23.6), Faris Sakallah was 26th (15:33.6), Peter Malander finished 65th (16:03) and Adam Huff was 97th (16:17.9).
In girls' action, Chantilly's Kendall Cowne finished 24th with a time of 18:24.6. Oakton's Allie Klimkiewicz finished sixth (17:51.1), leading the Cougars to a sixth-place team finish.