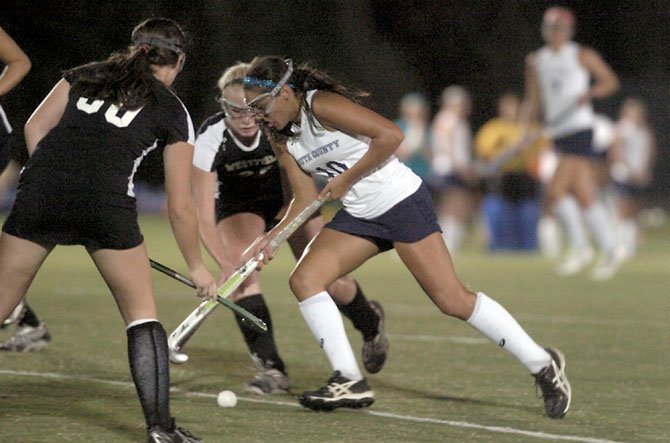 Inclement weather prevented the South County field hockey team from attempting a second-half comeback against Westfield on Sept. 27, but Stallions head coach Leah Conte was pleased with her team's effort during what proved to be a 30-minute contest.
Westfield's Katelyn Rennyson scored less than five minutes into the game and the Bulldogs won a 1-0, weather shortened game at South County Secondary School. The teams completed the first half, making the game official, but never made it out for the second half after inclement weather forced coaches and players inside the school at halftime.
Westfield and South County met in last year's Northern Region championship game, with the Stallions winning, 4-1. This year, Westfield defeated South County 3-0 during a tournament on Aug. 25. While Conte was disappointed the season's second meeting between the teams was cut short, she said she was happy with the way the Stallions performed.
"It's a bummer because it was a very high-speed, well-skilled game and you love to play high school games at that level," Conte said. "My team played very good team defense tonight. I was really, really happy with how we clicked defensively. We were anticipating the ball in the midfield really well and stepping up hard, and we just didn't capitalize on our opportunities."
South County bounced back with a 2-1, overtime victory against West Potomac on Oct. 1 and a 5-0 win against Annandale on Oct. 4, improving the Stallions' record to 10-5, including 5-1 in the Patriot District.
Through 13 games, senior forward Alexis Schramm led South County with 12 goals. Junior forward Isabel Josephs had seven goals and senior forward Stephanie Halsted had five.
South County conclude the regular season at home against West Springfield on Oct. 9.
—Jon Roetman