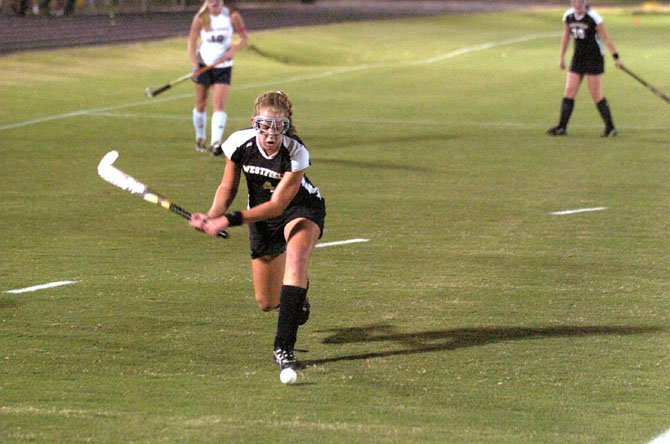 A lightning-quick goal from Katelyn Rennyson was all the Westfield field hockey team needed to win a fast-paced game at South County on Sept. 27 that ended quickly on account of lightning.
Westfield defeated South County, 1-0, in a weather-shortened contest between last season's state tournament representatives from the Northern Region. Rennyson fired a laser into the cage less than 5 minutes into the contest, which proved to be the difference. The teams completed the first half, which made the game official, but never made it back onto the field after coaches and players were forced into the school due to inclement weather at halftime.
The two teams met in last year's region final, with South County winning, 4-1. This season, Westfield beat the Stallions, 3-0, during a tournament on Aug. 25 prior the Sept. 27 victory.
"This was a highly-skilled game," Westfield Head Coach Starr Karl said. "The girls all know each other and I have a lot of respect for [South County Head Coach] Leah [Conte], so we were really looking forward to playing."
Conte echoed Karl's words.
"It's a bummer," Conte said, "because it was a very high-speed, well-skilled game and you love to play high school games at that level."
Rennyson's well-struck goal made her the fourth Bulldog to reach 10 goals this season.
"I wouldn't get in her way," Karl said. "She's got a wicked hit."
Westfield's Emily McNamara had 15 goals through 13 games. Meghan Winesett had 12 goals and Katie Winesett had 10.
"It makes it a lot more balanced," Karl said of having four double-digit goal-scorers, "so [the defense] can't go after one person."
Westfield defeated Centreville, 8-0, on Oct. 2 and beat Chantilly, 7-0, on Oct. 4, improving its record to 13-2. The Bulldogs are 12-0 against Northern Region foes, outscoring those opponents 59-2.
Last season, Westfield finished 20-4 and reached the state semifinals.
"We have everybody back but two from last year," Karl said, "so expectations are high. They set high goals for themselves."