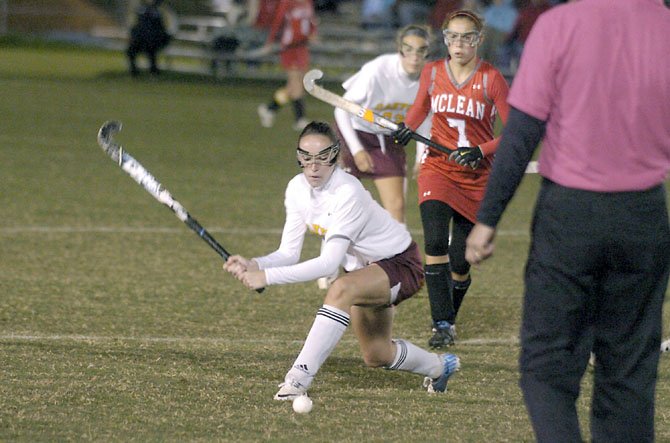 Vienna — The Oakton field hockey team ran a play called "Carpe Diem" during a penalty corner in the closing seconds of Monday's contest against McLean. While the play did not produce a goal, two first-half scores were enough for the Cougars to seize the victory.
Oakton's Catherine Miller scored less than five minutes into the game and Jennifer Prosser added a goal as the Cougars defeated the Highlanders, 2-0, on Oct. 8 at Oakton High School. The Cougars extended their win streak to four and improved their record to 8-7 with one regular season game remaining.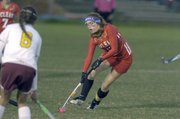 "We've really been improving every game," first-year Head Coach Kaitlin Fleischmann said. "We have a philosophy of playing 'Oakton's game' and I just want us to keep doing that through the [postseason] and I feel like we'll be really successful."
What does playing "Oakton's game" involve?
"One of the big parts of it is—we've had a lot of physical games—maintaining composure and keeping it clean," Fleischmann said, "and keeping focused on our goal."
MONDAY'S GAME had some physical play, with multiple cards issued. Oakton senior captain Maggie Toye, who played with a broken right thumb, said the Cougars did a good job of keeping their composure.
"It was kind of physical and I think that was because [the Highlanders] started getting a little frustrated with us," Toye said. "But I'm really proud. Our girls really held it together and they stayed very classy. They didn't throw any cheap shots or anything like that and they stayed very classy and kept their calm and played our game."
McLean Head Coach Summer Vanni, whose Highlanders play their home games on turf, said playing on Oakton's grass field affected her team's quick-pass attack.
"We've really progressed throughout the year and I think we're coming into district play very strong."

—Oakton captain Maggie Toye
"We definitely had some opportunities, but I think the way that the game was played tonight was not conducive to our kind of play," she said. "We're a finesse team, we're a turf team and I think the grass definitely threw us for a loop a little bit.… Oakton is a strong team. I welcome a rematch. I welcome a turf rematch with this team."
After a 4-2 start to the season, Oakton dropped five straight games, during which the Cougars were outscored 13-2. But Oakton responded with four consecutive wins, outscoring Herndon, Robinson, Centreville and McLean by a total of 9-1. After losing to Westfield, 5-0, on Sept. 14, Oakton won its next three Concorde District games and will host Chantilly at 7:30 p.m. on Wednesday, Oct. 10 with a chance to secure the No. 2 seed in the district tournament.
"I'm excited for the postseason and I think that we're ready to go."

—McLean coach Summer Vanni
Fleischmann said Toye, Prosser and Annalise Capalbo have been standouts for the Cougars.
"We've really progressed throughout the year and I think we're coming into district play very strong," Toye said. "I think we have a good shot at placing high in the district, seeding-wise, and I think we might surprise some people. We usually do and I'd like to keep that up. I think we're peaking at just the right time for tournament play."
THE LOSS dropped McLean's record to 6-7-1. The Highlanders had won five of six heading into Monday's contest after starting the season 1-5-1. McLean was 3-1 in the Liberty District heading into its Oct. 9 contest against Marshall.
Vanni said Kathleen Mulligan, Erika Eckrod and Christian Geisler have been standouts for the Highlanders.
"I'm excited for the postseason and I think that we're ready to go," Vanni said. "I don't think this night illustrated that but I welcome the rematch."