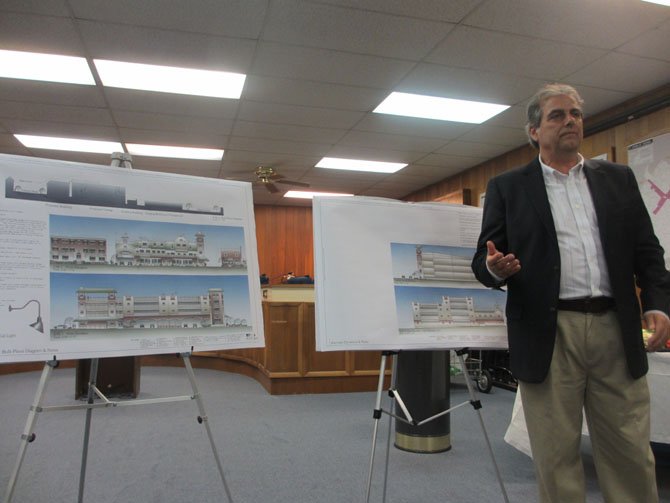 The Town of Vienna and project architect Paul Layer conducted another round of citizen meetings on Sept. 27 to discuss the proposed Church Street mixed-use building, a small complex of parking garage/retail and condo apartments, developed as a private/public partnership.
Approximately 25 concerned community members turned out for the mid-afternoon meeting, while a much smaller number participated in the evening meeting. The evening meeting, however, featured a greater interaction between speakers and fellow citizens.
The lot, at 120 Church Street NW, fronts Church Street alongside Bikes@Vienna, The Pure Pasty Company, Sweet City Desserts and Terra Christa. An alleyway separates those shops from their parking lot, which is owned by Arrington Properties LLC. The garage will hold 120 public parking spaces and 52 spaces for building tenants. Along the alleyway, intersecting both Church Street and Maple Avenue, the builder will install lighting, a pedestrian walkway, greenery and a little parklet. Arrington Properties will sell the public parking structure to the Town of Vienna for $1.00.
Layer conducted the meetings, taking questions as he spoke.
"We're looking into the future," said Mayor M. Jane Seeman, noting that for Church Street to grow and be vital, more parking area is needed.
THE SITE PLAN for the new mixed-use building, developed on land owned by Vienna's Arrington family, includes four Church Street-facing retail shops on ground level and three two-level condominium homes above the shops. Behind the retail/residential units will be a four-level parking garage. Ground floor parking will be reserved for tenants of the building.
Since the previous public meetings, Layer modified his design to incorporate a "loading" area in front of the property, and lowered the height of the garage by five feet. Architecturally, the building is designed to fit in with the personality of Church Street. Signage for the shops along the alleyway will be placed on Church Street.
"It [the mixed-use structure] will maintain the small-town feeling."
—Vienna resident Keith Min
Layer himself has lived in Vienna for 18 years with his family and wants to preserve the town's character. "My intent is to make it [the project] the best it can be within the context of what this small town is really about," Layer said.
During the evening meeting, a citizen remarked that he had heard Vienna residents say they wished for things in the town but never a parking garage. He questioned the town's use of public funds for project use, and said he believed Church Street businesses were "thriving" in today's conditions. Layer disputed the implication that small Church Street businesses have the profit margin the resident suggested they do. "I know many of these business owners and they're not making the profit you think they do," Layer said.
Town Councilmember Carey Sienicki called the new mixed-use building/garage "infrastructure."
"We're improving infrastructure like bike routes, sidewalks. This is infrastructure. It's central in making Church Street a place to work, live and enjoy," she said.
A resident who lives on Ayrhill Road said she doubted the "appeal" of the Church Street parking garage. "I'm not sure it's appropriate for Church Street," she said.
Addressing residents' concerns about the need for added Church Street parking, Town of Vienna Director of Planning and Zoning Greg Hembree responded that there is a need for more parking on Church Street. "This will go a long way toward addressing parking issues," Hembree said. "We're trying to maximize the good and minimize the bad." He added that the area still has development potential. The garage will be a starting point for walking around town.
Early in the evening meeting, Julie Bazin, co-owner of Bazin's on Church, agreed with the town's assessment that more public parking is needed around the shops. She asked that it be clarified that the garage would, in fact, be public parking and not restricted to the complex's tenants. "We hear so many crazy rumors," Bazin said.
Bazin said she and her husband, Patrick, were a "little nervous" over the two-year construction part. "But I'm happy about the garage," Bazin said.
SECURITY of the parking structure is not anticipated to be a problem, Vienna Police Chief Robert Carlisle said. Carlisle referred to the two parking garages currently maintained in Vienna—one at 301 Maple Ave. and the other on Park Street—as having no "significant" problems. The police department patrols those garages regularly as they do the streets and shops of Vienna. "We're putting a parking garage in a town that's really pretty safe to begin with," Carlisle said.
Carlisle said that officials have not yet sat down to make a security plan for the project but are looking into the model of the Fairfax and Leesburg parking garages, as well as considering surveillance cameras.
"Security is a concern that we will look at," said Carlisle. "We'll make assessments as we move along.
"I think we are adequately staffed to prepare for garage security."
For the most part, residents who came to Thursday's public meetings left satisfied with the responses from Layer and town officials. Roy Baldwin, a local lawyer, commented that he believed Vienna was getting a "wonderful" deal with the package. Sign up quickly, he said during the evening meeting.
Ten-year Vienna resident Keith Min said he was very happy with the design. "It will maintain the small-town feeling," he said.
Details on the Proposed Municipal Parking Structure/Mixed-Use Project are found at
www.viennava.gov/index.aspx?NID=961. Elevation details are at www.viennava.gov/DocumentView.aspx?DID=1019.
To learn more about the Church Street Vision Plan, go to www.viennava.gov/index.aspx?nid=959.