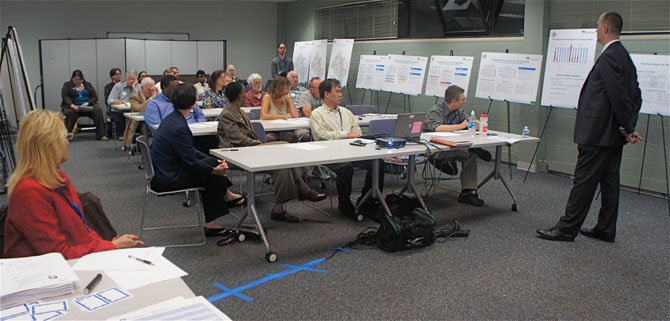 What issue could be so important that the mayors and chairs of 38 jurisdictions within Virginia's "Urban Crescent," the area stretching from Northern Virginia to Richmond and Hampton Roads, could set aside political affiliations and sometimes conflicting agendas to sign off on a letter sent collectively to the governor, lieutenant governor and the General Assembly of the Commonwealth of Virginia? Long question, short answer: transportation.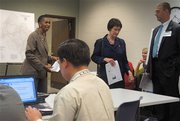 "You know the issues are urgent when you can get that many leaders in this partisan atmosphere to all agree and to take action quickly," said Fairfax County Board of Supervisors Chairman Sharon Bulova (D-At-Large). Bulova was speaking at a public meeting held at the North Government Center in Reston on Oct. 3, the fifth in a series called "Countywide Dialogues on Transportation."
Supervisor Catherine Hudgins (D-Hunter Mill) opened the session. "There is a negative change in how we are being funded by the state," she said. "The County doesn't have a dedicated revenue source to fund transportation. Legislatively, it is the state's responsibility, but we need to address those changes. We are here to talk about what our challenges are and how do we meet them. "
Chairman Bulova was next up. "The well of state funds for secondary and primary road construction will be dry by 2017," she warned. "Even the funds meant to match federal dollars. The money you pay in gasoline taxes that go to the federal government to be a match for states won't be eligible, and there are no refunds. That's a real problem."
"The well of state funds for secondary and primary road construction will be dry by 2017."
-- Fairfax County Board of Supervisors Chairman Sharon Bulova (D-At-Large)
THIS LOOMING FUNDING CRISIS and the fact that Virginia has slipped from number 10 to 33 in the CNBC study "Top States for Business" rankings released in July was the reason for the Sept. 4 letter sent by the Urban Crescent officials to the Commonwealth. "That letter is a show of solidarity. It's important," Bulova added. "But we can't wait for the answers. Fairfax County has to act now."
Part of the County's action plan was to task their Department of Transportation (DOT) with a study of needs and funding shortfalls over the next 10 years, to develop a benefit cost analysis tool to utilize when considering transportation projects, and to identify potential revenue sources to address the funding gaps. Another key component of the County DOT's assignment was to disseminate their findings in public meetings and solicit public feedback before any action is taken. The "Countywide Dialogues" are the DOT's method to fulfill that aspect of their mission.
Director of the DOT Tom Biesiadny led the presentation: "Our study identified $8.1 billion in transportation related needs, but we only have $5.1 billion in anticipated revenues from existing sources. Either we find new and sustainable revenue sources, or we must prioritize our needs and decide which ones we cannot go forward with."
Maintenance of our roads—the responsibility of the Virginia Department of Transportation (VDOT)—is a major concern. According to VDOT, 26 percent of all of the state's roadways are in poor condition. In Northern Virginia, 39 percent of the roads under VDOT's domain are so classified. New road construction funding by the state has decreased from $29 million in FY2004 to $0 in FY2010 and is projected to stay at nil for at least the next six years. The federal government has increased funding loans available for transportation, but those dollars can only be accessed if a funding source for loan repayment is identified. Some of the unfunded projects that need attention according to the DOT include the Tysons Corner Redevelopment, Base Realignment and Closure (BRAC) improvements, transit service expansions and bicycle and pedestrian facilities.
After enumerating the issues and reviewing some of the projects identified in the study, Director Biesiadny moved into part two of the discussion: potential revenue sources.
"I want to emphasize that this is the beginning of a discussion," said Biesiadny. Responding to concerns raised by a Reston couple in attendance, he stressed, "We are not here to advocate for any particular revenue source, or package of sources." The Reston duo declined to be identified in the paper, but stated they came to the meeting after having read online that the County was proposing to implement a toll on the Fairfax County Parkway. "We have lived here since before that road was built," said the female resident. "I am a dog walker in this area. If I had to pay a toll every time I drove on the Parkway, I would have to give up my job."
Biesiadny admitted that a Fairfax County Parkway toll had been used in the study as an example. Tolls were only one of 13 categories for revenue sourcing examined. Other categories included increased Income, Sales, Meals, Real Estate, Gas and Sales on Services Taxes. Currently there is no Sales on Service Tax in Fairfax County. Haircuts, repairs, and dry cleaning services were noted as examples of such services. "Again," assured Biesiadny, "this toll is not a proposal, or even a recommendation. We just used this as an example to show how our model works. Our model identifies a particular revenue source, then calculates the potential revenue to be gained. For each source we determine whether it is eligible for bonding, what legislative body must approve the source, and what would be the estimated household impact."
THE ENTIRE DIALOGUE PRESENTATION, as well as a brief survey asking the public to provide opinions and suggestions on possible funding options is available online at www.fairfaxcounty.gov/fcdot/cdot. The letter from the Urban Crescent officials can be found on Chairman Bulova's website www.Fairfaxcounty.gov/Chairman/. The chairman, Supervisor Hudgins and Director Biesiadny urged attendees to review the materials and complete the survey, which is also available in hardcopy from the DOT. To encourage greater response, Bulova gathered staff before departing, getting agreement to extend the survey deadline to take into consideration the Connection Newspapers publication dates. Survey responses will be accepted until 4:30 p.m. on October 15.