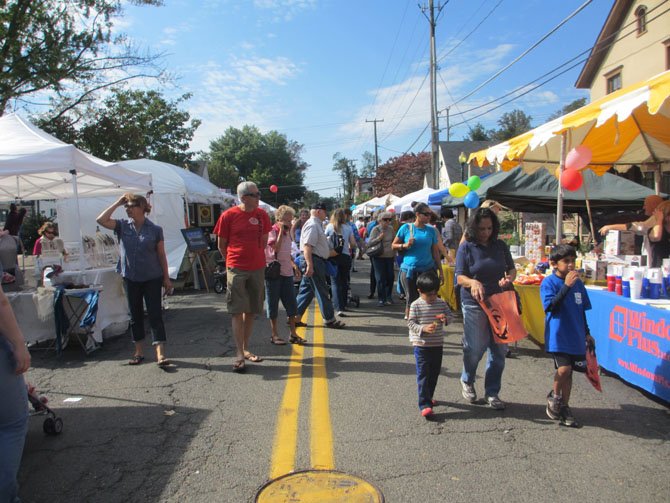 Oktoberfest, on Saturday, Oct. 6, started out as picture-perfect autumn day… sunny blue skies with a mild temperature, perfect for strolling. By early afternoon, dark clouds rolled in, but the families with young children made the best of their time at Oktoberfest.
Photo Gallery
Oktoberfest
Click Photo for Flash
Sponsored by the Tysons Regional Chamber of Commerce and the Town of Vienna, the all-day event featured a dedicated kids' section with activities, bounce house, inflatable slide and entertainment on the children's stage, all centered on the Town Green. Children waited in line for Arla, the face painter, and came away looking fierce or lovely. Along historic Church Street and Dominion Road, vendors sold crafts, services and food. Prominently featured in the caboose parking lot was the beer garden and food court. Local restaurant favorites Plaka Grill, Maplewood Grill and Bazin's on Church and Alegria served signature specialties and German food.
The children climbing the rock wall showed no fear. "I climb a lot," said 7-year-old Kamran Ghaffari of Vienna. "I wasn't scared. It was kind of difficult but I can climb without the belt because I climb trees with long branches."
Some households, like the Bremer family and the Lucca family, come every year. Ella and Ethan Tiede's mom said it is events like this that make living in Vienna nice.
Govan Builders of Vienna supported the festival as main sponsor, serving free (root) beer from its tent. While not as Oktoberfest-ish as beer is, Cabot's cheese also offered free samples of its products.
"We come every year, mostly to enjoy the family activities," said Elizabeth Lucca, Vienna mother of two—almost three—children. When asked what he likes the most, son Logan, 4, answered quickly. "The slide and bounce house."