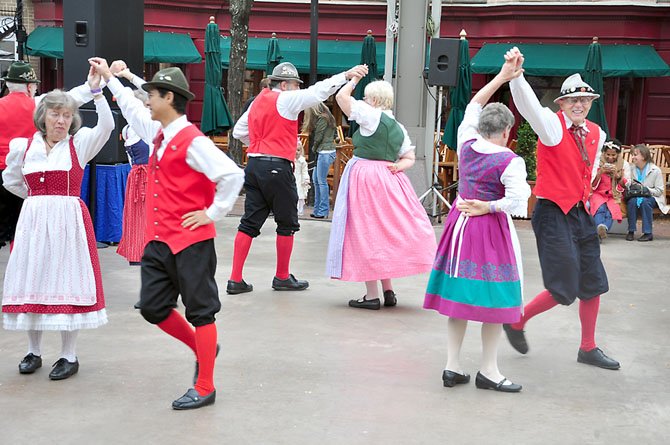 Reston — A cold, rainy day couldn't keep George Mitchell and his friends away from Reston's Oktoberfest Sunday, Oct. 6.
"Wind, rain and a cold wind is the perfect fall weather, and there's nothing that screams fall like an Oktoberfest," Mitchell said. "I wanted to come on a Sunday, so we could wander around and watch the Redskins at the [American] Tap Room and watch from outside if we had to."
Though Mitchell was one of a few that made it out on Sunday, the annual Reston Oktoberfest drew thousands to Reston Town Center from Friday to Sunday. Featuring live music, children's entertainment, a variety of Oktoberfest-inspired food from local restaurants and a large selection of fall beers, most attendees were able to find something to keep busy, if not a day's worth.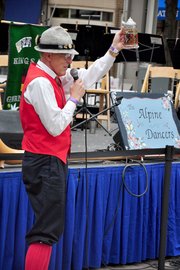 "Fall beers are my favorite seasonal beers by far. The summer ones are a bit light and the winter ones are so heavy you can't have more than a few, but the fall brews are the perfect blend of flavors," said John Root of Vienna. "Plus they really warm you up on a day like this."
Michelle Burton, who says she goes to almost every festival Reston Town Center hosts throughout the year, said Oktoberfest is the one time where she doesn't take time to explore much.
"I like to keep myself anchored around the pavilion, that's where the beer is, and that's where the music is happening. I don't need anything more than that," she said. "Other than finding the closest bratwurst, I'm not going anywhere."
Other visitors didn't stray far from the parking lot at the corner of Presidents Street and Freedom Drive, the site of the children's carnival. The weather on Sunday meant that most rides were empty throughout the day, something that Carlos Garcia, 9, and his parents were able to take full advantage of.
"I was able to pretty much go from ride to ride and there wasn't anyone in line, we could even ride some of them three or four times in a row," Garcia said. "The Ferris wheel was the best, because we could get a view of the entire carnival, and they let us stay on for a while."