Alexandria — The Alexandria Sportsman's Club will host its annual "Redskins Night" Tuesday, Oct. 16 at the Old Dominion Boat Club. Special guest speakers for the evening will be former Redskins All-Pro defensive end Dexter Manley and Redskins historian Michael Richman.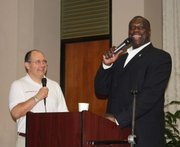 Manley was drafted by the Redskins in the 5th round of the 1981 draft out of Oklahoma State. He went on to become one of the greatest defensive linemen in Redskins history.
Richman is the author of two comprehensive books on Redskins history: "The Redskins Encyclopedia" and "The Washington Redskins Football Vault." He also hosts the Redskins TV show and podcast Burgundy & Gold Magazine.
A social hour begins at 6:30 p.m. Food and refreshments will be served. The event is free and open to the public and all Redskins fans are encouraged to attend. The Boat Club is located at 1 King St. in Old Town. For more information, visit www.alexandriavasports.org.
— Jeanne Theismann