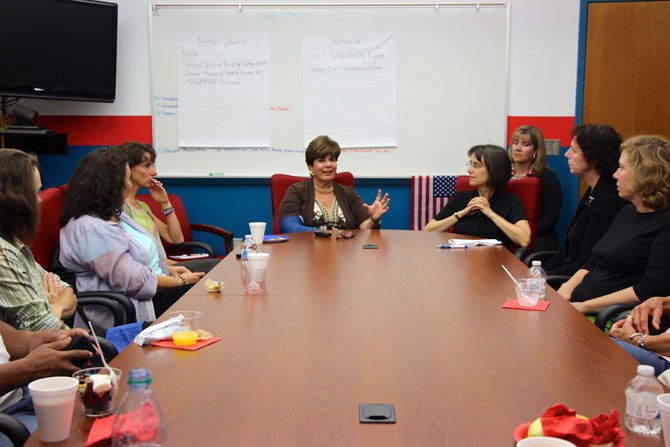 Alexandria — At the beginning of the first of T.C. Williams High School's monthly Principal's Chats for the new school year, parents applauded and cheered Principal Suzanne Maxey's announcement: "We're fully accredited."
High schools are fully accredited when students achieve pass rates of 70 percent or more in all four core academic areas and attain 85 points or higher based on the Graduation and Completion Index. Schools in which students meet all achievement objectives established by the Virginia Board of Education are rated as fully accredited.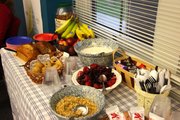 "Last year we got 81 points," Maxey said. "It's really extraordinary to get four points in a year. That's very big news."
The one-hour talk on the morning of Oct. 3 at the King Street campus had Maxey sharing information and hearing concerns and suggestions.
Without a set agenda, parents could ask and talk about any issues related to their children and school. One parent was concerned about school improvement funds — $2 million per year for three years — during the transformation of TC.
"TC gets more money than anybody else in the state," Maxey said. "But the chance to get [additional] money from the state is very slim. We will have a sustainability meeting to discuss how do we sustain what we've done without the $2 million. We'll look at all of our programs, what worked, the cost and where we can get the money. We're proven that we're going to the right direction."
Besides school improvement funds, some parents were confused about the change of the Individual Achievement Plans (IAP). This year is the third year of TC transformation, IAP is required by the state to be incorporated into the Individual Career and Academic Plan (ICAP).
Before, every student has an IAP, which is developed collaboratively with the student, parent, math teacher, English teacher and school counselor to help create an individualized learning experience for each student.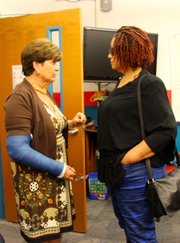 "For IAP, we feel our kids don't own it," Maxey said. "They only listen to counselors and teachers to tell them what to do. Now with the ICAP, we have 15-20 kids per advisor who will be with them once a week, doing things like personality traits survey to help kids learn about themselves. Now kids have the opportunity to set goals for themselves. They can monitor those goals with their advisors."
In addition, the principal chatted with parents about dress code, laptop issues and shared some anecdotes from school.
"I come for information and learn what's going on," said Janice Howard, who has a son who is a senior. "I came last year too."
"We have this chat on the first Wednesday of each month starting this semester," Maxey said. "It's very open. It's the chance for me to have my ears on the ground to really know what's going on. I love it."