McLean — Over the summer, 13 students and four staff members from Spring Hill Elementary spent more than a week in Yokohama, Japan. On Tuesday, Oct. 9, several students and parents from Yabe Elementary in Japan returned the favor, arriving to great fanfare from students, staff and parents.
The trip came about when parent Dave Hunt, whose children attended Spring Hill, connected with Spring Hill Principal Vanderhye and told him he had friends in Japan, and it might be possible to start an exchange program.
"It's been a pleasure to be a part of the exchange program," Hunt said. "It's a great honor and pleasure to see the children get to know each other, and see the schools bond, and it's an experience we hope to continue."
Students used the first part of the assembly to introduce their counterpart from Japan, greeting the student body in both English and Japanese.
While the students did share some interests, Vanderhye enlightened the Spring Hill students about the responsibilities of elementary school students in Japan.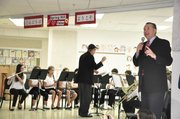 "They have no custodians, the children help cook the food, help clean the kitchen every single day," he said. "They don't have a cafeteria like ours, the children eat in classrooms. And after every meal they clean the entire classroom, until it's spotless. And at the end of every recess, the children clean their entire recess area."
The students from Japan and Spring Hill took turns performing several songs. The students from Yabe performed "It's a Small World" and several Japanese songs on their recorders, while the Spring Hill chorus and band performed a square dance and several other numbers.
For band teacher Dan Freeman, the exchange reminded him of one that took place almost 80 years ago.
"If there's one country that loves baseball as much as America, it's Japan. In 1934, some of our biggest stars, like Babe Ruth and Lou Gehrig, went over there for a tour, and they learned a lot and eventually started their own league. And what they did in 1934, exchanging players, is what we're doing now, and hopefully we get some positive results out of it."