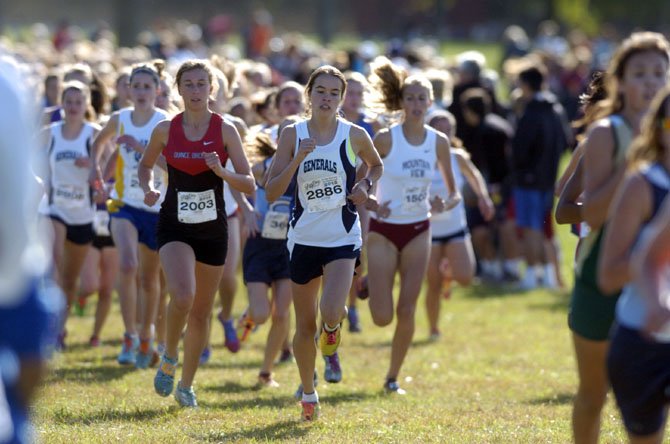 Centreville — The defending National District champion Washington-Lee girls' cross country team graduated two of its top harriers from last season, including individual champ Isabel Amend.
But if Saturday's performance is any indication, the Generals aren't going to let that stand in their way.
Led by Sarah Angell and Jordan Selby, W-L placed second at the 20th Annual Glory Days Invitational on Oct. 13 at Bull Run Regional Park. The Generals finished second with a score of 119, not far behind West Springfield's total of 112.
Angell finished eighth with a time of 18 minutes, 45 seconds, and Selby placed 11th, recording a time of 18:57.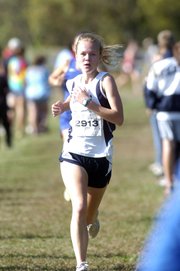 "I thought it was much better than some of the other races I've had," Angell said. "I was kind of surprised by some of the people I was with. I was up there more than I thought I was going to be. … I started out kind of fast and I was able to keep going."
Four W-L harriers finished in the top 30: Angell, Selby, Sarah Sears (19th, 19:15) and Jordan Grimaldi (30th, 19:35).
"It was more about the team today," Selby said. "We were trying to develop the team. We did well."
Donia Nichols finished 69th (20:23) for the Generals.
The National District championship meet is Oct. 25 and the Northern Region meet is Nov. 1.
"We're just going to try to [win the championship] again this year in districts," Angell said. "We're going to have to have everybody on our team work together."
In boys' action, W-L finished 18th, but Haileye Demsie cracked the top 15 as an individual. Demsie placed 15th with a time of 15:57.
Outside of the National District, Chantilly's Sean McGorty and West Springfield's Caroline Alcorta each set a course record. McGorty was the boys' top finisher with a time of 14:45. His time blew away the previous course record of 15:08, set by Quince Orchard's Neal Darmody in 2007, and meet record of 15:03, set by Handley's Bobby Lockhart in 2001. The meet had a course change in 2005.
McGorty led Chantilly to a first-place team finish with a score of 31. Severna Park (91) finished second, followed by Georgetown Day School (163) and Robinson (200).
"We're just going to try to [win the championship] again this year in districts. We're going to have to have everybody on our team work together."

— W-L's Sarah Angell
Yorktown finished 26th (589). Bishop O'Connell's J.J. LaPointe placed eighth as an individual with a time of 15:49.
Alcorta was the girls' top finisher with a time of 17:42, breaking the course record of 17:49, set by James River's Kristen Wolfe in 2007. Centreville's Laura Heiner posted a time of 17:23 in 1997 and Hayfield's Melissa Dewey recorded a 17:37 in 2004, prior to the course change.
West Springfield won the girls' team title with a score of 112. Washington-Lee (119) took second, followed by Chantilly (124) and Patriot (210).
Bishop O'Connell finished sixth with a total of 226. Devin Nihill was the Knights' top individual finisher, placing 13th with a time of 19:06.
More like this story