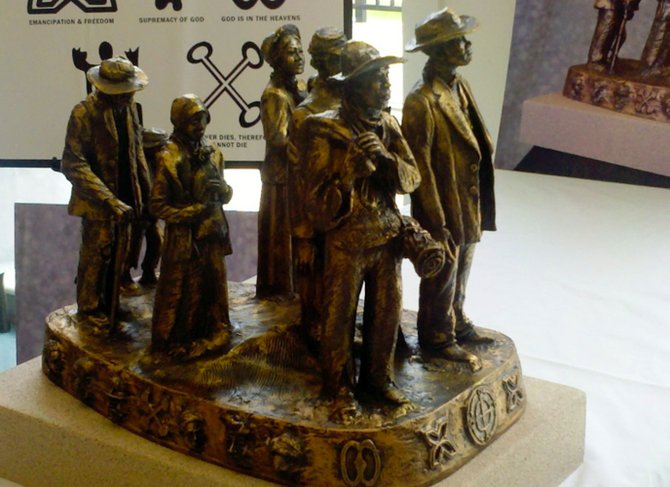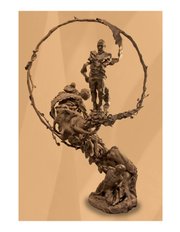 The Contraband and Freedmen's Cemetery is no stranger to controversy. Now a new conflict has emerged at the final resting place for dozens of former slaves. This one is about art and religion, two subjects that many people shy away from in polite conversation. The public debate now enveloping the project in south Old Town has long ago dispensed with niceties.
"It's a robbing of the African culture," said artist Ed Dwight, America's first black astronaut. "And it's shameful."
Dwight is a Colorado-based based artist whose work was chosen by a selection panel to be featured at the memorial. The panel was composed of people who had been part of the group that approved the design of the memorial as well as descendants of people who are buried there. But the stakeholder group's selection of Dwight to receive the commission was overturned by the Public Art Committee, which ditched Dwight's sculpture in favor of a separate submission proposed by Mario Chiodo.
"I know that having gone through this once before with the Versace memorial, it's an exhaustive process," said Councilman David Speck during a City Council meeting last week. "So when I saw the Public Art Committee choose a different artist, I wondered why that was."
City Manager Rashad Young explained that city officials determined that Dwight broke the rules.
"That artist chose to include religious symbols in the sculpture, even that the (request for proposals) noted that those were specifically prohibited," Young said.
DWIGHT SAYS that nobody from the city ever called him to explain that his submission, which was chosen by the selection panel, was in violation of any of the rules. If he had received a call, the artist said, he would have explained that the African symbols that appear at the base of his design are mostly secular. He acknowledged that one or two of the traditional icons might have been a reference to God, but most of them are about abstract concepts like longevity and prosperity that were popular with the Africans sold into slavery in America.
"What are cemeteries about if they are not about religion?" asked Dwight. "The idea that they would even suggest that these slaves be stripped away from their religion, to me, is just insane."
Last weekend, City Council members approved the sculpture created by Chiodo. He also said that nobody from the city contacted him, and he said he didn't know his selection had been chosen until a reporter from the Alexandria Gazette Packet contacted him to ask about the controversy.
"This is like out of a movie," said Chiodo. "I'm ecstatic."
Chiodo explained that his sculpture is set on a twisting vine of thorns and roses. An opposed figure at the bottom is looking up. The next figure is starting to make his way up the twisting vine, and he is touching the foot of a dead child. Above that, a woman holds a baby in one arm while reaching toward figures representing sacrifice and hardship with a rose. The final figure is standing on his toes holding a rose that has yet to bloom.
"That unbloomed rose represents freedom, that it's there but it has not come yet," said Chiodo. "Standing on his tiptoes, he is obviously avoiding the thorns on the path that he's walking on because it was not easy. It was very difficult."
FOR DWIGHT, the back-and-forth of winning the commission from the selection panel only to lose it from the Public Art Commission has been a difficult path. He said his artwork was aimed at representing the people who are buried there in a way that was as figurative as possible, which is how he read the lengthy document outlining what the city wanted. By contrast, Dwight said, the Chiodo sculpture that was selected did not meet the conditions outlined in the request for proposals.
"Why somebody would come up with some kind of abstract nonsense when the proposal itself asked for figurative images reflective of the people who were buried there is beyond me," said Dwight. "It's got nothing to do with the African-American experience."
Chiodo disagrees, describing his artwork as an appropriate way to represent the freedmen who are buried at the cemetery.
"It was strictly about focusing on the symbols that represent oppression, hardship, courage and hope," said Chiodo. "That's what it's about, and that's for anyone to interpret however they want to."