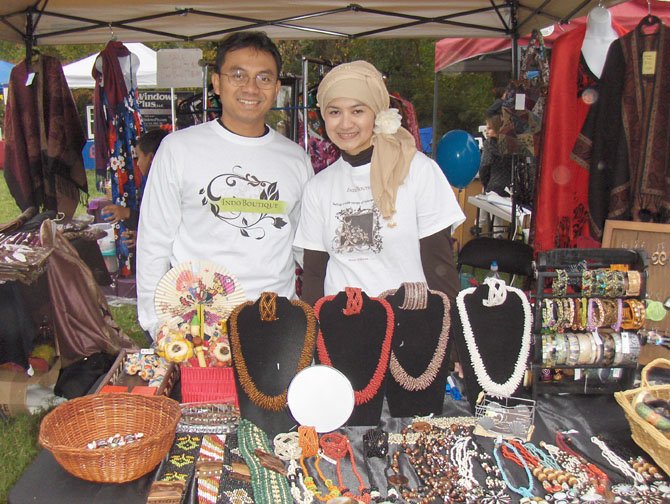 Centreville — Step right up and join the parade — or, at least, come watch it. And then head over to Centreville's Historic District for the 20th annual Centreville Day celebration. The fun includes children's activities, a trick-or-treat trail, live entertainment, food and crafts.
The festivities are this Saturday, Oct. 20, and kick off with the Zombie Slouch 5K Run and Walk at 9 a.m., to benefit DC Candlelighters. Participants may wear Halloween costumes; prizes will be awarded for the most creative adult, most creative child, plus the fastest male and female runners and the fastest runner under age 12.
The Zombie Slouch begins at Colin Powell Elementary, 13340 Leland Road in Centreville, followed by the Centreville Day parade starting in the same place at 9:45 a.m. Both events will travel from Leland Road to Pickwick Road, around to Braddock Road, across Mount Gilead Road and Wharton Lane, back to Pickwick and around to Braddock again, ending on Mount Gilead in the Centreville Historic District.

Strollers and dogs are welcome in the one-mile, Zombie Slouch walk. Registration that day is $20 for runners; $15, walkers; and $25, families. Organizations and groups may register to be in the Centreville Day parade at www.centrevilleva.org; cost is $15. It's free for families and individuals, and people and pets in costume are welcome.
After the parade, residents will flock to the Centreville Historic District – 5714 Mount Gilead Road – where the Centreville Day events will run from 11 a.m.-5 p.m. Parking is at the Trinity Centre at 5860 Trinity Parkway in Centreville, and free shuttle buses to and from the Historic District will be provided by Centreville Baptist Church.
This year's theme is "Celebrating 220 Years of Community" because it's the 220th anniversary of the chartering of the Town of Centreville. And both admission and parking are free.
Children of all ages will find things to enjoy, including an inflatable octopus slide and a wizard castle with an obstacle course inside, courtesy of G&C Auto. Vendors will hand out candy, stickers, tattoos and other goodies, and SYA Cheer will give out bags for children to fill as they follow pumpkin symbols along the trick-or-treat trail through the Historic District and vendor marketplace.
The nZone is providing additional rides and games, and a children's area sponsored by Alpha Delta Kappa will have a pretend cow to milk while Miss Charlotte and her friends help children make pot holders, weave mats and create scratch art. They can also play old-fashioned games and compete in tug-of-war and sack races. There'll even be word puzzles, coloring pages, stories and face painting. Also slated is a Faces of Centreville scavenger hunt.
A community marketplace will showcase a variety of crafters, businesses, churches and organizations. And a food court will feature local restaurants, plus festival fare including ice cream, hot chocolate, fudge and funnel cakes.
The live entertainment ranges from a Chinese Dragon dance to singers to a Tae Kwon Do demonstration to a sneak peak at the Alliance Theatre's upcoming production of "Nunsense."
On the lawn of the historic Mount Gilead house, living history interpreter Beverly Pelcher will portray Cornelia Peake MacDonald, giving a woman's view of the Civil War. The Swordmasters of the 18th Century will offer fencing lessons, and Sully Historic Site and Frying Pan Park interpreters will help visitors dip candles and make butter and roof shingles. They'll also demonstrate how to weave and cut silhouettes.
Performance Schedule
11a.m. – Opening ceremonies: Westfield High's Sarah Berrios singing the National Anthem, Chantilly High's Air Force JROTC doing the flag ceremony, plus various presentations
11:30 a.m. - Chinese Dragon Dance
12 noon – Mia Saunders Ballet
12:30 p.m. - Centreville Dance
1 p.m. - Alliance Theatre
1:30 p.m. - Epic Quartet
2 p.m. - St John's plaque presentation: Dedication of the Sesquicentennial Civil War Trails sign
2:30 p.m. - Harmony Road School of Music
3 p.m. - Tae Kwon Do and Hispanic singers
3:30 p.m. - Alberto Ramirez, Benito Chavez and the Flock of Eagles band
4 p.m. - SYA Cheer
4:30 p.m. – Creative Dance Center
Several historic homes and churches will also be open to the public. Among them are Mount Gilead, built in 1785; the Spindle House, Havener House, Old Stone Church and St. John's Episcopal Church. The new Stuart-Mosby Cavalry Museum will also welcome people.
In addition, E.C. Lawrence Park staff members will offer guided tours of Civil War Centreville. Two are by van and two are family-friendly, walking ghost tours. Morning and afternoon tours will start at E.C. Lawrence and end in the Historic District and will include the Civil War museum. But spots are limited and those interested in taking these tours must register in advance at www.fairfaxcounty.gov/parks/ecl.
Centreville Day is organized by the Friends of Historic Centreville in partnership with the Fairfax County Park Authority and the Centreville Day Planning Committee. For more information, see www.centrevilleva.org.
"It's an opportunity for families to learn about local history, do a little holiday shopping and bring the kids outside for some fun and games," said event organizer Cheryl Repetti. "They'll get to meet the people who make up their community."