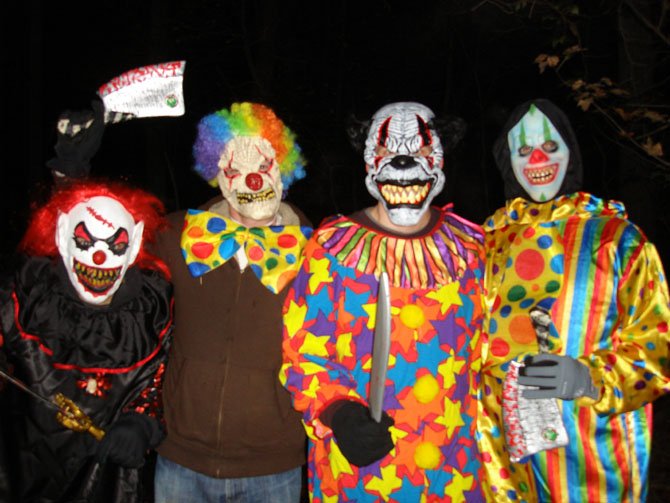 Clifton — Screams pierce the night in the middle of a dark and spooky forest, while scary creatures frighten all those brave enough to enter. "It's only 8 acres — what could possibly happen to you?" That's the slogan of the Clifton Haunted Trail, and the bloody mayhem is once again ready to be unleashed.
The annual event is set for Saturday, Oct. 27, from 7-10 p.m., in the Town of Clifton's Eight-Acre Park. (Rain date is Oct. 28). Tickets are $20 for adults and $10, children; there are no advance sales. Sturdy shoes are recommended; snacks and beverages are available.
"It's the scariest trail around," said Haunted Trail Chairman John Powell. "Many people have told me they go to other haunted houses and trails every year, and ours is the best, by far."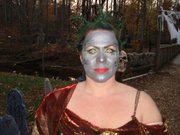 Since the fright level is so intense, parents should accompany children along the trail, and it's not recommended for those under 8. However, children not wanting to go on the trail, plus parents waiting for teens to emerge from it, will be able to watch Movies under the Stars on a large screen at the park's entrance.
Flashlights are not allowed on the trail. Free parking is available at Clifton Elementary and in the flood plain, and hayrides will take trail-goers to and from the park. For more information, see www.cliftonhauntedtrail.com.
More than two dozen, spine-tingling scenarios will fill the forest, with zombies, ghouls, ghosts and all manner of undead and angry creatures ready to pounce on unsuspecting visitors who dare to disturb them. And they're deadly serious.
"Our trail is just a one-night affair, so the actors go all out," said Powell. "They're really invested and immersed in it. They think up their skits and costumes, get the appropriate props, rehearse and really get into character."
Some 200 Clifton-area volunteers put on the Haunted Trail and act in the scenarios which include everything from vampires to witches, pirates, skeletons and dangerous men wielding chainsaws. Powell oversees the whole event, with help from Clifton's Ester Pline.
"She's really carrying the brunt of the workload this year," he said. "She's managing all the skits and doing a lot of the coordination, and she's also in charge of all the volunteers."
Eager to unleash all these terrors of the night, Pline says this year's Haunted Trail is nothing short of "spooktacular. Striking terror into the hearts of trail-goers will be Eric Hencken and his clan of creepy clowns, plus Boris Populoh lurking under the Bunnyman Bridge."
Karen Gentry will ensnare visitors in her spidery webwork and Julie Thompson will host a sinister soiree with ghoulish dinner guests. Meanwhile, Jeff Harper will hold a boogie of the bones. Witchy woman Jacquie Lambertson will lead the witches' coven while vampiress Erin Tengesdal bares her fangs.

Swashbuckling Stephanie Ryan will sail the Ship of Dread while Sara Holbrook and Pline haunt the spirit vortex. Lanette Shea Waite and Patrick Pline will hang out with the Creepers, and John Kinter will innocently ask trail-goers if they want to play a "game."

Peril also awaits all those summoning enough courage to enter Scarecrow Alley led by Rick Peterson, Geri Yantis and Carter Wyant; the land of the undead led by Fred Ansick; or the twisted thicket of the Mossmen headed by Steve Goetzinger.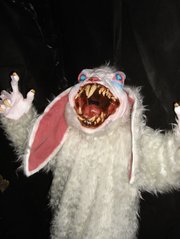 "Be careful not to disturb local artist Palmer Smith as he works on his 'Kill Life,' said Ester Pline. "And hold tight to your wallets when you pass afterlife saleswoman Deb Dillard." Taylor Williams and John Peterman will also provide chills and thrills, and musician Erich Russekrobbins will play eerie organ music near the entrance to the bridge.
The Town of Clifton sponsors the Haunted Trail and receives the proceeds. "The money helps fund the town," said Powell. "And this year, for the first time, we have additional sponsors – the Clifton Wine Shop and Tasting Room, Anthony Reid and Associates, plus an anonymous donor."


Last year's Haunted Trail was snowed out, but about 1,700 people went through the next night. So if the weather holds out, Powell expects a much larger turnout this time. (Photos of past trails may be seen on the Clifton Haunted Trail Facebook page.)
Proceeds from sales of hot cider, baked goods, soda, candy and popcorn will benefit the Northern Virginia Therapeutic Riding Program. In addition, Domino's will be on hand to sell pizza. "We'll also have T-shirts for sale this year," said Powell. "They're black with a picture of scary woods on them."
It's a great deal of work putting on the Haunted Trail, and comprising this year's core committee are Powell, Pline, Jeff Harper, Steve Bittner, Kathy Hertz and Eric Hencken.
And since the forest has no electricity, some 10 generators and thousands of feet of wire are needed for the special effects. So Bittner plus John Neyland are responsible for everything being in place and working properly on the big night. Local Boy Scouts will help with the clean up.
"It's a wonderful event because it brings the community together," said Powell. "More Clifton residents participate in the Haunted Trail than in any other town event. It's a bonding thing for the community as the residents prepare for the skits and participate in them — they have a good time."
And with all those eerie things lurking in the darkness, the trail is definitely frightening. "One of the scariest components is done by John Peterman, who's in the finale," said Powell. "He keeps it a surprise from us until a few days beforehand. But it's elaborate and always scares the heck out of people. So if you just go to one Haunted House or Haunted Trail, this season, this is it."