With bluegrass and country compositions known to millions, two-time Grammy winning international recording artist Jim Lauderdale performs at Artisphere in the intimate Dome Theatre, on Saturday, Nov. 3 at 8pm. Tickets are $22. Visit www.artisphere.com.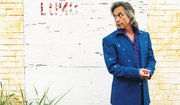 Lauderdale is a multi-talented performer and songwriter, with success in both country and bluegrass music. His roots stem from the Carolinas, yet his career has taken him all over the United States and abroad, making him an international recording artist with a growing fan base. He has also walked away with two Grammy's for Best Bluegrass Album, along with four additional nominations. He is among Nashville's "A" list of songwriters, with songs recorded by artists such as Patty Loveless, George Jones, The Dixie Chicks, Dave Edmunds, Gary Allan, Blake Shelton, Vince Gill and George Strait.
Lauderdale's musical influences include the legendary Dr. Ralph Stanley and George Jones. These influences along with his unique sense of melody and lyric help forge a sound that is truly his own. His current release, "Patchwork River" (his second collaboration with Grateful Dead lyricist, Robert Hunter) is currently on the Americana radio charts. His first Grammy was in 2002 with Dr. Ralph Stanley for "Lost in the Lonesome Pines" (Dualtone). His next one came for his second solo bluegrass album, "The Bluegrass Diaries" (Yep Roc 2007) at the 50th Grammy Awards. His first CD with Dr. Stanley, "I Feel Like Singing Today" (Dualtone/Rebel 1999) received a Grammy nomination as did his first solo bluegrass CD titled "Bluegrass"(Yep Roc) from 2006.
As a performer his credits include production, writing and collaborating on albums such as, "Wait 'Til Spring" (SkyCrunch/Dualtone 2003) with Donna the Buffalo, and "Headed for the Hills" (Dualtone 2004) his first total project with Robert Hunter.