The Langley High School Orchestra is presenting "Spirited Away: an Asian Theme Concert" on Thursday, Oct. 25 at 7 p.m. in the Langley Auditorium.
The concert will highlight music from the 2001 movie "Spirited Away" by Hayao Miyazaki', widely acclaimed to be one of the greatest animated films of all time. The orchestra will play "One Summers Day" and "Sixth Station" from Joe Hisaishi's sound track, featuring senior pianists Chigaya Sakai and Paul Li. Also featured in solo roles will be sophomore harpist Alyssa Katahara, senior cellist Constance Chiu, and senior violinists Cindy Lee and Alan Chiang.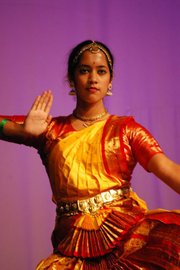 Langley's four string orchestras will prepare selections from Japan, China, Korea, India and Singapore for the event, including music from soundtracks to "Memoirs of a Geisha" and "I'll Make a Man Out of You" from Disney's Mulan. Andrew Scronce (World Languages Japanese teacher "Scronce Sensei") will read winning poems from a Haiku writing competition, and help prepare student emcees to introduce each selection in the native language of the composition. Students will also be encouraged to celebrate their heritage by dressing in traditional Asian clothing.
The orchestra will be joined by senior Pallavi Rudraraju, who will perform a classical Indian dance. Two guest dancers will perform a Korean Jang-goh Drum Dance. Nen Daiko (professional Japanese Taiko drummers) will give a special guest performance as the culmination of the event. The event will also celebrate the debut of Eastward Bound, a new rock band of Langley students. Also check out the Saxon Scroll for the artwork prepared for the event by senior Remy Bustani.