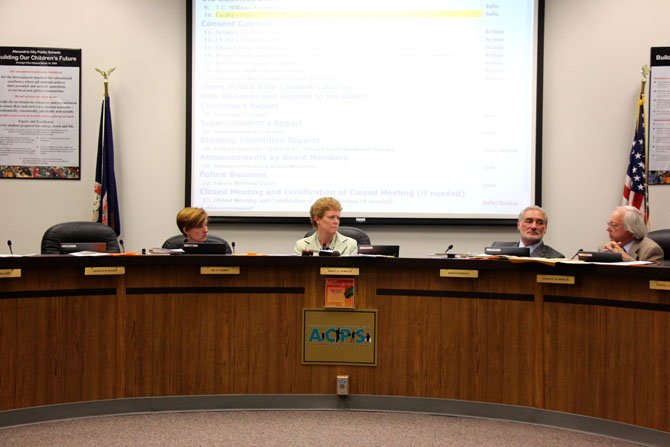 Alexandria — At the Alexandria City School Board's Oct. 11 public hearing on its FY 2014 budget, parents and school staff voiced their concerns over funding for various schools and programs.
"MacArthur is exceeding capacity," said Elizabeth Jones, representing Douglas MacArthur Elementary School PTA. "We have nearly 700 students. There's no teachers' lounge this year. Teachers have no place to decompress, and we need to expand the cafeteria. We need modular units to alleviate this overcrowding."
When it comes to overgrowth in student population, MacArthur is not alone. George Mason Elementary School has 502 students this year, compared to 400 six years ago. Four to six modular units are needed as most classes exceed the class size cap. Additional bathrooms are in need as 72 teachers and school staff are now sharing one adult bathroom, and there are only two bathrooms for children.
In the Superintendent of Schools Morton Sherman's report, the student population keeps growing from 10,521 back to 2006 to 13,112 in 2012. "This is 25 percent increase in enrollment," said Sherman. "This is at the top of our planning list."
While overcrowding is an urgent issue, after-school programming is another area that requires more funding. "The foreign language after-school program varies every year," Jones said. "I'd like to see the school consistently provide foreign language opportunities in the after-school program and ideally incorporate it into school day across the entire division. It will be nice to have Mandarin and Spanish all the time. And last year, we had a successful chess program. One hundred students were interested in taking that program, but we couldn't accommodate all the students. I'd like to urge the School Board to fund the programs."
Ashley Chappell, representative of Cora Kelly School for Math, Science and Technology, also said parents would like to have more after-school programs to provide more opportunities for children.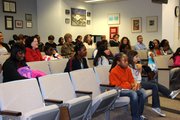 Besides expressing the needs for funding, representatives of school provided suggestions. "If we can't do it with funds," said Tom Tyler, president of Cora Kelly PTA. "Let's do it with grants. We're so excited to work with the grant writer to seek more grants. I was so impressed with the grants that Cora Kelly had and benefited so many children there."
At the meeting, T.C. Williams Principal Suzanne Maxey updated board members on the school's transformation and requested them to fully fund the cost of Advanced Placement examinations.
The FY 2014 budget calendar is scheduled for approval on the School Board meeting on Oct. 25.