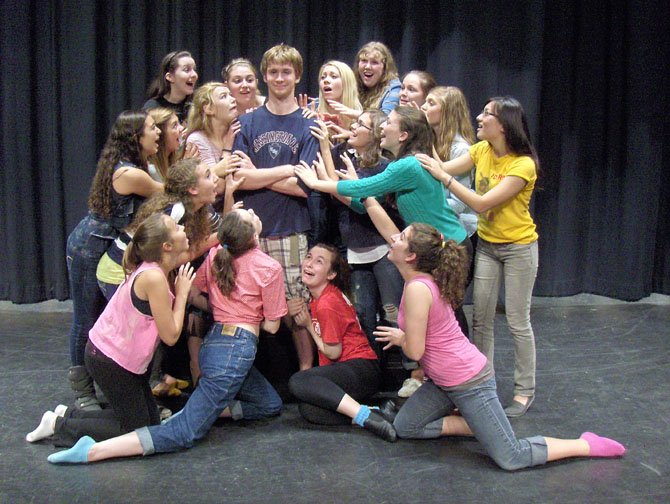 A slice of Americana wrapped in music and dancing—that's Woodson High's production of "Bye Bye Birdie." The curtain rises Friday, Nov. 2, at 7:30 p.m.; Saturday, Nov. 3, at 2 and 7:30 p.m.; Friday, Nov. 9, at 7:30 p.m.; and Saturday, Nov. 10, at 2 and 7:30 p.m.
Tickets are $10 presale at www.wtwdrama.org, $12 at the door and $5, senior citizens. The cast and crew of nearly 100 have been rehearsing since early September.
"We have a really great cast making awesome choices," said theater director Terri Hobson. "They're not afraid to have fun with their characters. We also have a wonderful team of choreographers, assistant choral director Lisa Corey and theater student Lara Taylor. And there's all kinds of dancing—tap, ballet, jazz and 1950s-type pop."
Hobson said the singers are terrific, too, with she and Michael Ehrlich, the show's musical director, sharing many students who take both chorus and drama. "It's just a fun show," she said. "It's also well-written—the jokes have a universal appeal to all ages."
It's set in 1959, and teen heartthrob/bad boy Conrad Birdie is entering the Army. Birdie's manager Albert and Albert's girlfriend/secretary Rosie arrange for a teen girl from Birdie's fan club to give him his last kiss before leaving. They hope the song they kiss by, which Albert wrote, will make enough money for Albert to leave his job and become an English teacher.
THE SCENES take place at the Ed Sullivan TV studio; the steps of the Sweet Apple, Ohio, City Hall; and the kitchen of the teen girl, Kim MacAfee. "We've got some great, period pieces—including an actual pink, G.E. 1950s oven and refrigerator to lend it an air of authenticity," said Hobson.
Senior Gilbert Louis Braun III plays Birdie. "He's completely full of himself," said Braun. "He has a sweet persona only to attract the ladies, but he's really a player. He's too bold for his own good because he's gotten so used to people idolizing him that it's gone to his head and he thinks he's above the rules."
Calling his role "super-fun," Braun said, "Every time I walk onstage, I get mobbed by beautiful women. I'm also excited to have a lead and to sing in my first, big musical. And I can show different sides of Birdie."
His favorite song is "One Last Kiss" because "Birdie gets to use a sweeter, more romantic vocal quality." Braun says the audience "will love the dynamics in the McAfee family because they're just funny, especially the relationship between the father and son."
Portraying Kim McAfee is senior Alison Romig. "She's 15 and thinks she's more mature than she is," said Romig. "She's president and recording secretary of the Conrad Birdie Fan Club and was randomly chosen to be kissed by him. This causes trouble with her boyfriend Hugo who just gave her his pin and doesn't want her kissing Birdie."
Romig loves her part because "I get to act like a girl who's not quite fully grown before I have to go out into the world, myself, after graduation. And I do lots of scenes with the teen chorus of Kim's friends, and the girls playing them really get into their roles."
SHE ESPECIALLY LIKES the song, "Telephone Hour," in which the whole town's talking about Hugo and Kim getting pinned. "It has a fast, bouncy beat and the choreography is really cute and entertaining to watch," said Romig. Regarding the show, she said, "The audience will like the cast's energy and the simplicity of the time period."
Junior Josh Reiter plays Albert. "He's very complicated; he's 33 and in love with Rosie, but also dedicated to his job, so he's trying to balance the two," said Reiter. "He's also a mama's boy, and she gets in the way of his and Rosie's relationship."
"It's a challenge humanizing Albert because he tends to be insensitive at times, although he has a good heart," said Reiter. "So I try not to make him sound like a jerk. But he's also dynamic, so I get to show his other facets and sing and dance, which is fun."
Reiter's favorite number is "Rosie," which he enjoys singing with senior Paula Lavalle, who portrays that character. And he said the audience will like the show's "wonderful, catchy music and amazing dancing. It's a fast-paced, hilarious show."
Lavalle describes Rosie as a "sassy, fiery character. She almost runs Albert's music company, but really wants to make a life with Albert and be an English teacher's wife. I love it because I'm Spanish and can relate to her hardheadedness and strong will, and I love her songs and dances."
Lavalle's favorite number is "Spanish Rose" because "it's funny and quirky and I like putting the dancing with it. I think it'll be a crowd-pleaser." Overall, she said, "It's an old-fashioned show where everything works out in the end; it gets back to the roots of musicals. It can be chaotic, but will leave the audience happy."