Centreville — When 52 of the Little Sisters of Hoboken, a convent in New Jersey, die after eating bad potato-leek soup, the remaining 19 nuns need to bury them. But first, they have to put on a talent show to raise enough money to do so.
That's the premise of "Nunsense," The Alliance Theatre's rollicking new musical comedy. It's being performed weekends, from Nov. 2-18, at Mountain View High School, 5775 Spindle Court in Centreville.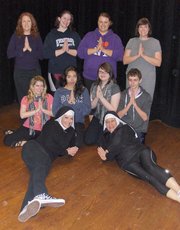 Show times are Friday-Saturday, Nov. 2-3 and Nov. 9-10, and Nov. 16-17, all at 7:30 p.m., plus Sunday, Nov. 18, at 2 p.m. Tickets are $16/adult; $14/child (12 and under); $14/senior citizens; go to boxoffice@thealliancetheatre.org.
The cast has been rehearsing since August, and Director Scott Olson – who performed in Alliance's "Camelot" and directed its "Legally Blonde" – says everyone's doing great. "They're all incredibly talented and the story is just good, wholesome fun."
"This is not your typical, Broadway show," he continued. "It has quirks, and you get to learn a little about each nun's back story. The audience will like the frivolity of it all and how the story's intertwined within it."
Playing the Mother Superior is Holly Czuchna. "She's in charge of this chaos," said Czuchna. "She wants desperately for things to be the best for the sisters, but doesn't always make the wisest of decisions. So she tries to make amends for her mistakes, although she doesn't want to admit them. She's got a good heart and is stern when she needs to be but, secretly, she wants to be a star."
Loving her role, Czuchna says it's challenging because it contains so many nuances, but she likes her character's "fun personality. People don't always realize nuns are people, too, with dreams and aspirations." Her favorite song is "Turn up the Spotlight" where the audience discovers how much Mother Superior likes being in that spotlight, herself.
"The audience actually gets to participate in the show," said Czuchna. "We talk directly to them and they get to talk back to us. I think it'll surprise them, but it'll be a lot of fun and they'll enjoy it."
Rianke Krugel portrays Sister Mary Hubert. "She's a big personality – a mix between Steve Martin in 'Leap of Faith' and Whoopie Goldberg in 'Sister Act,'" said Krugel. "She's engaging and warm – overly so, sometimes – and she's the mistress of novices, second in charge of the convent. She can abide by the rules, but can kick off her shoes at a moment's notice and take the stage."
Krugel enjoys her part because her character has no reservations and it allows her to "tap into [the sister's] responsive, crazy energy. I just give her free rein and her character creates itself through the music, song lyrics and lines."
She especially likes the number, "Holier than Thou," which she sings. "It encompasses the theme and message of the whole play – find what works for you in your religion and make it your own. There's a lot of energy and comedy in this show and, ultimately, it's just funny to see characters of nuns brought to life on stage in the way that we do."
Playing Sister Amnesia is Centreville's Annie Ermlick, in her 15th Alliance show. "A crucifix fell on her head and she lost her memory, so she's sweet, but ditzy," said Ermlick. "She does an operatic song, 'So You Want to be a Nun?' with a puppet – her alter ego, Sister Mary Annette. So Sister Amnesia sings in a soprano-type voice and Sister Mary Annette sings in an alto, Broadway belt. It's ventriloquism, and the puppet is hilarious and says very inappropriate things."
Ermlick also likes her role because she gets to interact with the audience, quiz people and be spontaneous. "I like the cast, too, and my best friend, Cathy Arnold, is choreographing," she said.
"Sister Amnesia's so lovable, sweet and playful, she's often the comic relief," continued Ermlick. "And I love the puppet song because it's such a showstopper and I get to sing full-out opera – for which I was classically trained. This is a lighthearted, toe-tapping comedy that'll have people laughing out loud. And it's family-oriented, so all ages will enjoy it."
Music Director Beth Atkins taught everyone the music and helps them express their characters' thoughts through the songs. "I love watching the characters develop as we go through the rehearsal process," she said. "I see the cast grow stronger and stronger every week as they become more confident about their vocal abilities and their characters."
"I love having the chance to blend the music with the action and help tell the overall story through music," said Atkins. "Really strong characters are emerging." Overall, she said, "There's a range of musical styles and lots of catchy tunes that'll stay with the audience. I can't get this stuff out of my head."