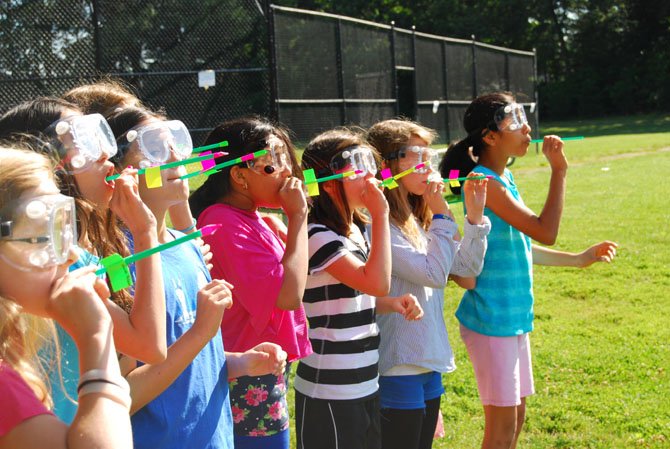 As a culminating activity to a year of monthly science labs, Great Falls Elementary students in grades fourth through sixth participated in "Rocket Day" this past June.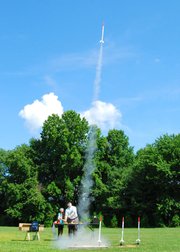 The experience began with an assembly for all upper grade students. The keynote speaker was Dave Steffy, senior vice president and program director, Taurus II launch Vehicle Program at Orbital Sciences. Steffy introduced students to the concept of propulsion, helped them determine what qualifies as a rocket, and provided hands on examples of materials used to build rockets. Steffy reminded students how important it is to study math and science, saying, "Notes are the language of music, and math is the language of science."
Dr. Jitendra Joshi, chief technologist advisor at NASA Headquarters also spoke to students in grades one through six. Joshi discussed topics such as "A day in the life of astronauts," "Why can you drive your SUV on the Moon?" and "It is a wet moon: New Discovery of water on the moon."
After receiving such valuable background information, students in grades four through six participated in rocket day. Each class designed a large and small rocket, and a class flag. Some classes created class cheers. Students paraded to the back of the school by class, and participated in stations with hands on activities to learn about chemical reactions, propulsion and Newton's first and third laws of motion. According to Phyllis Casey, a fourth grade teacher, "students felt like they were on a wonderful field trip, and all they had to do was walk out the back door of the school!"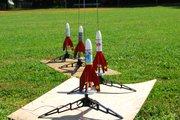 As a finale, each class launched their rockets. Assisted by parent and veteran rocket launcher Marty Bollinger, students predicted where their rockets would land by placing their class flag in the predicted location. The class designated rocket launcher pushed the button that sent the class-designed rocket soaring. Students found it was very difficult to predict where the rocket would land, but with each launch, predictions became more accurate.
New Principal Ray Lonnett fully supports continuing the Science Enrichment Program at Great Falls Elementary. According to Lonnett, "This is one of the best ways to get students excited about Science and Math. STEM education is critical to success in the high-paying careers of the future."
Science Enrichment will continue at Great Falls Elementary this year with study in areas such as DNA extraction, solar power, Fibonacci sequence, Prokaryotic and Eukaryotic cells and magnetism.