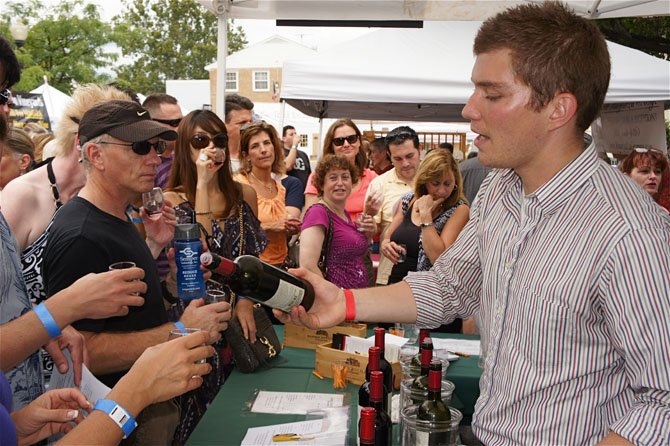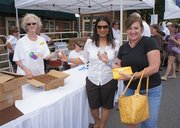 From noon to 6 p.m., Historic Downtown Herndon was hopping on the holiday. The Town of Herndon Parks and Recreation Department and their partners, the Herndon Women's Club, produced the town's 24th Annual Labor Day Festival. Chipper volunteers from the club welcomed the festival-goers, collected the cash, and checked id's before handing out those coveted commemorative wine tasting glasses, which were put to good use at booths representing no less than 12 Virginia wineries. "Between the wine, the beer, and the cooking demonstrations, there's definitely an adult flavor to this festival," said Alanna Greaves of Reston. "The kids had fun all summer long…and there will be lots of fairs and festivals designed for kids in the fall. This one is more for me and my girlfriends," she laughed.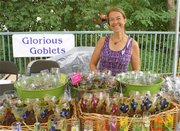 While the crowds around the wine tasting tents were pretty thick, the stalls showcasing colorful crafts and local foods all had their share of visitors. Mary Sears' "Glorious Goblets" space featured a colorful array of hand-painted glassware that attracted, and the tent demonstrating the culinary talents of Cookology Chef Mark Chang, Assistant Chef Dong Kim and front of house associate Natalie Armel was particularly packed.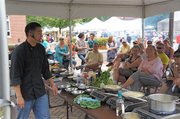 The trio entertained, educated and fed with six different menu items, from butternut squash risotto to tiramisu. Cookology conducts its family-friendly "Casual Culinary School" in Dulles Town Center mall.
The front of the Herndon Municipal Center was the scene for the food and wine seekers and the craft hunters, but around the back on the open lawn, center stage was shared by the bands that were keeping all toes tapping and by the local microbreweries, including Alexandria's Port City that catered to the beer adventurous. The lawn also provided plenty of space for the kids to romp, while some attendees just lounged with their samples and listened to the music.
If the smiling crowds are the means by which to judge, then this year's event can check the box in the "successful" column. Partial proceeds from the festival go to scholarship programs supported by the Herndon Women's Club.