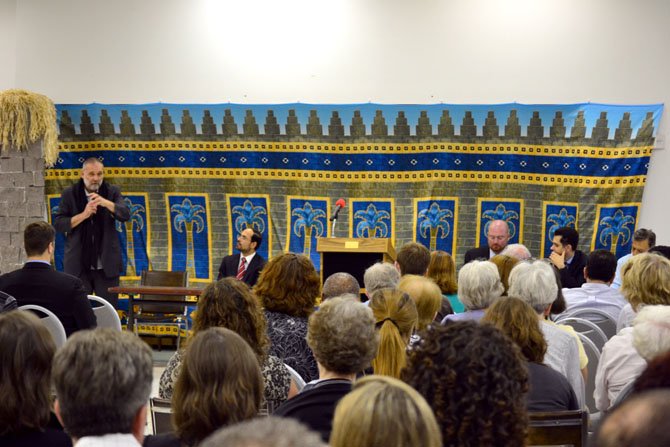 Arlington — Members of the local Muslim and Christian communities gathered at Rock Spring Congregational United Church of Christ in Arlington recently to hear from Father Paolo Dall'Oglio, an Italian Jesuit priest who had lived in Syria since 1982, and was recently expelled from the country for speaking out against the Syrian government's crackdown on the uprising there.
Rock Spring co-hosted the July event with Dar al-Hijrah Islamic Center, located in Falls Church. The event was co-sponsored by the Council on American-Islamic Relations, a national organization that defends the civil liberties of American Muslims, and the Syrian American Council.
Hossein Goal, a member of the Darl al-Hijrah Board of Directors, said that his Islamic center was contacted by CAIR and the SAC to co-host because it has a "very good relationship" with Islamic centers, Islamic organizations, and churches.
"Rock Spring Church is one of our partners for interfaith works and building bridges between the Muslim community and the people of other faiths," said Goal, explaining why Rock Spring was chosen to co-host the event with them.
Michael Bell, a member of the Social Action and Mission Committee at Rock Spring, said that Dar al-Hijrah was looking for a church where Dall'Oglio could speak and chose his church in particular the people at Dar al-Hijrah knew that it was "very open to pursuing Muslim-Christian understanding."
Originally from Rome, Italy, Dall'Oglio came to Syria in "the late '70s hoping to improve the Muslim-Christian dialogue," said the Rev. Frank Fairman, a pastor at Rock Spring, in his introductory remarks about Dall'Oglio. "In 1982, he wandered across the wreck of a Byzantine monastery on the rocky hillside about 50 miles from Damascus." Dall'Oglio later spent many years restoring the Deir Mar Musa monastery, and "he turned the Mar Musa monastery to a center for interfaith dialogue."
"I am amazed by the path that I've taken in my life," said Dall'Oglio. "To discover Syria was a great adventure."
He described the various Christian denominations in Syria, which make up 10 percent of the country's population, according to the CIA World Factbook. These denominations include the Greek Orthodox, the Syriac Orthodox, Maronites, Protestants, Syriac Catholics, and other denominations as well. In addition, there are also various Muslim communities in Syria: The Sunnis make up the majority of the population of Syria, and then there are the Shiites and Sufis. A sect of Shia Islam, the Alawis, and the religion of the country's president, Bashar al-Assad, and his regime.
Dall'Oglio said that a united Syria that is accepting of different religious and ethnic groups "is the Syria that should be kept for our children." However, he said that some groups in Syria, such as the Kurds, may use the ongoing conflict as a way to create their own independent states.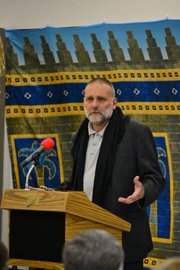 He also disagreed with arguments made by Assad, Syria's president, that he is the only one protecting Christians and other minorities in Syria from persecution. Dall'Oglio said that not all Christians are supporting the regime. He said that he even knows some Alawites who have spoken out against the regime.
Dr. Mahmoud Khattab, chairman of the Syrian American Council, agreed with Dall'Oglio's views on Christians in Syria.
"Bashar al-Assad is trying to send a message to the whole word that he's the only guarantee for Christian in Syria, and that absolutely not true," said Khattab. Muslims and Christians "have lived together peacefully for thousands of years."
Dall'Oglio said that in order for their to be reconciliation in Syria, several things must happen. "First of all, the family of Assad must go away now." Then he says that there should be peacekeeping forces from the United Nations to protect the supporters and opponents of the regime from attacking each other.
Khattab said that he was asked by a journalist in California as to why Americans should care about what's happening to the people of Syria, his response was that Americans are "human being[s], and I think every human being should care about the situation there."
More like this story