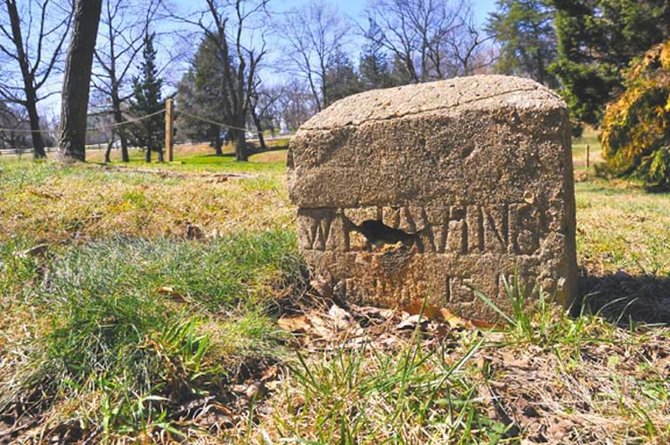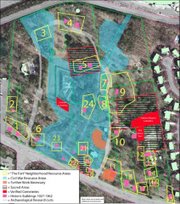 Two years ago, city officials aimed a high-powered radar from California at the ground in various spots at Fort Ward. The idea was to create a sort of "ground truth," revealing the hidden history buried at the old Union fort that was constructed as part of the defenses of Washington during the Civil War. That led to more investigation and years of archeology revealing more than 20 burial at various spots throughout the park last month. But opinions are divided about what to do next.
"There is still a high possibility that there are other graves out there," said City Archeologist Pam Cressey. "But that's more than 30 acres to look at, and it's not reasonable to turn over every inch of ground."
Not everyone agrees on what's reasonable. Descendants of those who are buried at Fort Ward would like to see every acre of the park inspected for potential graves. They feel that the city has committed a grave injustice at Fort Ward, taking an area known to have several African-American cemeteries and creating a public park. Even though the atrocity happened in the 1960s, the pain created by the city's indifference to African-American graves is still fresh. As recently as three years ago, city maintenance vehicles were regularly driving over unmarked graves.
"I don't think that people really want to face up to what has happened," said Lena Rainey, whose ancestors are buried at the park. "No one wants to admit to wrongdoing, although it's right there in front of your face."
THE STORY OF HOW a city-owned maintenance yard ended up over a city-owned park dates back to the end of the Civil War. When the Union Army deserted the plantation guarding a critical approach to the capital, recently freed slaves began building new lives for themselves here. By the time the city was trying to assemble lands to create Fort Ward Park a century later, determining the titleholders to houses with no plumbing or sewer service created a problem.
"There may have been people who didn't want to sell but realized that their community was changing," said Wally Owen, curator at Fort Ward Park. "What's frustrating about this is that we don't have the full record of what went on back then."
Alexandria leaders have long known about the grave of Clara Adams, which was clearly marked by a headstone in the maintenance yard where they stored equipment and parked their vehicles. City officials believed that her husband was probably buried next to her, but recent archeology has discovered four burials here. And 19 additional graves were discovered in the Jackson family cemetery, which was previously thought to have five burials. And another separate burial area was discovered in an old grove that has three burials, including the sister of Clara Adams. Despite the recent findings, the search for long-lost graves may be over.
"There is a possibility that there are more graves in the park," said Lance Mallamo, director of the Office of Historic Alexandria. "But we feel satisfied that we have made every effort to reasonably identify the graves where we know that have been burials."
PART OF THE PROBLEM for Alexandria leaders is that Fort Ward is one of the crown jewels of city parks. It's a popular spot for a variety of activities, especially now that the Civil War sesquicentennial is attracting new attention to the Union fort. Visitors today will learn about the Connecticut troops that once manned artillery here. But they'll learn almost nothing about the African-American community that thrived here after the war. Some say that indicates a reticence to own up to what happened here.
"If you look at the notices on the restroom doors about the work that's being done this spring and summer, the word graves isn't mentioned in any of those notices," said Glen Eugster. "I think people in the city are really nervous that there are a lot more people buried out here."
Another problem is drainage. Water from a nearby neighborhood washes into the park and floods the graveyard, carrying sediment and debris that washes over the existing headstones. Last year, city officials installed a series of slotted pipes and bales of hay to channel the water. But part of the system was installed on private property and was removed, creating a gap in the system that focuses the flow of water toward one of the graveyards rather than channeling it elsewhere.
"The city has done as much as it can," said Rich Baier, director of the Department of Transportation and Environmental Services. "We put in a system, and it was removed."
IN THE COMING months, members of a task force will be crafting a long-term management plan for Fort Ward Park, and panels will be installed telling visitors about the African-American neighborhood known as "the Fort." But descendants are skeptical that city leaders will take the actions necessary to find all the burials at Fort Ward, an outcome they say will fail to right the wrongs that were done in the 1960s when the park was built over burial grounds.
"The truth should be known," said Rainey, who is a member of a descendents group and a work group. "This is a wrongdoing that has been passed down from generation to generation, and it's time to do something about it."
For more than a year, the descendants have been seeking a meeting with city leaders. But that meeting has not happened. Mallamo says city leaders are concerned because the descendants want Alexandria officials to enter into an agreement. In the next few weeks, Mallamo said, he will be sitting down with the city attorney and the descendants group to determine some kind of resolution to the ongoing tension between relatives of those buried at Fort Ward and the city that transformed their graveyards into a maintenance yard.
"We see this as setting a precedent because they are seeking to develop an agreement with us to share research," said Mallamo. "Some of my other facilities are concerned about the precedent something like that will set."