Mount Vernon — When he is feeling well, 87-year-old Peter Edisal Brown enjoys tending the flowers and vegetables he grows in the garden of his Alexandria home he has owned since 1946.

"I like to garden, and I wish I could still go dancing. Me and my wife, we used to love going to supper clubs like the Dipsy Doodle," Brown said.
But chronic pulmonary problems and degenerative joint disease make most physical activities difficult for the former World War II U.S. Navy pilot. Driving long distances, he said, is out of the question. When his wife, Mildred Louise, died in 2004, Brown had few options for getting to his medical appointments at the Veterans Affairs (VA) Medical Center in D.C.
Like many disabled vets living alone, he frequently had to reschedule or miss doctors' appointments. "Taxis are kind of expensive, and I don't like to impose on people," Brown said. A few years ago, he learned about a free transportation service for sick and disabled veterans offered through the Department of Veterans Affairs Veterans Transportation Service (VTS).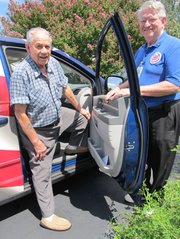 He now gets to make — and keep — critical medical appointments at the VA center. "It makes my life easier," said Brown. "If these guys didn't come and pick me up, I'd be in bad shape. It's saved me a lot of time and money."
Dick Stohr, a Springfield resident and retired U.S. Navy captain, is one of Brown's drivers. For the past five years, Stohr, 72, has volunteered to drive disabled vets in the Disabled American Veterans (DAV) van. He often spends an entire day at the hospital, while patients go through radiation treatment or other therapies.
"There are patients that go every day for radiation treatment for cancer that lasts for weeks," Stohr said. "Some have PTSD or brain injuries that preclude driving," Stohr said.

Since 2007, Stohr has logged nearly 1,000 hours as a volunteer driver. Stohr said he learned about the transportation program through his local DAV chapter, Arlington-Fairfax Chapter #10, which held meetings at his church, Grace Presbyterian in Springfield.
"So many of the veterans can't or should not drive, and I can do that for them. It's an honor for me to do that for them," Stohr said.

AN ELDER AT HIS CHURCH, Stohr volunteers for numerous programs. He is a facilitator with the church's Aging with Grace program and also drove the church's bus, until he turned 71 last year and insurance would not cover him.

He is also an enthusiastic advocate for the VTS transportation program. According to Maureen Flynn, the VTS coordinator for volunteers, there are only 14 drivers for the thousands of disabled vets in the Washington, D.C. metropolitan area.
"This is one of the most rewarding things you can do as a vet." — Dick Stohr of Springfield
"We have an urgent need for drivers … I can't emphasize that enough," Flynn said. "Unfortunately, some veterans go without medical care because we simply don't have the drivers to meet the demand," Flynn said. "Our goal is to make sure no veteran is left behind."
Flynn said the VTS program is flexible, but volunteers must commit to one day each week, have a clean driving record and go through a simple training program. "If someone would like to volunteer, I can promise I will schedule them for an interview within the next week," Flynn said.
Flynn said the program is a great example of "veterans helping veterans."
"Our drivers are often the first person veterans see in the morning for a long day of medical appointments. We want all our drivers to be safe and compassionate, like Dick Stohr," Flynn said.
According to Ron Minter, the national director of voluntary services, the Disabled Americans Veterans started the program 25 years ago to meet a substantial community need when the federal government cut travel benefits for vets.
"These are men and women who answered our country's call in times of war," Minter said. "Some may live a great distance from a Veteran's Hospital, and because so many exist on small fixed incomes, they find the cost of transportation too high."
Minter said they are often left with two choices: go without the treatment they need, or skimp on food or other necessities to pay for transportation. "Vets disabled in our nation's service should never face such dire options," Minter said. "Our nation's heroes need your help."

ACCORDING TO DAV national statistics, in 2011, volunteers drove more than 29,000 miles, donated nearly 2 million volunteer hours and transported 754,000 vets to the VA's 172 medical centers across the country.
"This is one of the most rewarding things you can do as a vet," Stohr said. "And think about the injuries younger veterans are suffering in Iraq and Afghanistan. The need is only going to increase."
More
For more information, call the Veterans Transportation Service Volunteer Office at 202-745-8320 or go the DC VA Medical Center website at www.washingtondc.... and click on "services."