Republican Women to Meet
The Republican Women of Clifton (RWC) will feature Artur Davis, frequent writer and commentator on national issues, at its Monday, Sept. 17 meeting. The meeting will take place at a RWC member's home, 9103 Wood Spice Lane, Lorton, with a social hour beginning at 7 p.m. Club President Marianne Gearhart will open the business meeting at 7:30 p.m., followed by Davis's speech. A former conservative Democrat, he served four terms in the U.S. House of Representatives. In May, he announced he was joining the Republican Party and he's now campaigning for presidential hopeful Mitt Romney.
Democratic Women to Discuss Schools
The Democratic Women of Clifton (DWC) will meet Sunday, Sept. 23, from 3-5 p.m., in the Clifton Town Meeting Hall, 12641 Chapel Road in Clifton. All Democratic women in Northern Virginia are invited. Democratic Fairfax County School Board members have been invited to discuss later school start times, parental notification and discipline policy reform, school lunch reforms, renovation queues for schools, the superintendent search and the budget.
For more information, e-mail cliftonwomendems@aol.com or visit www.democraticwomenofclifton.org.
Recycle During Electric Sunday
Residents may recycle old TVs, computers, peripheral electronic devices—such as keyboards, speakers, printers and scanners, as well as household hazardous wastes—including fluorescent light bulbs and tubes for free, during Fairfax County's "Electric Sunday" events. The next one is slated for Sunday, Sept. 23, from 10 a.m.-3 p.m., at the I-95 Landfill Complex, 9850 Furnace Road in Lorton. For more information, call 703-324-5052.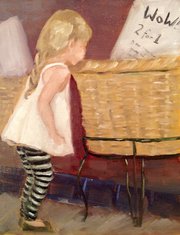 Workhouse People's Choice Award Winners for August 2012 Exhibition
Three artists from the Workhouse Associate Artists (WAA) were chosen as People's Choice Award winners for their current exhibition in the Vulcan Gallery (Building W16) at the Workhouse Arts Center in Lorton. The winners were chosen during the Workhouse's monthly 2nd Saturday Art Walk on Aug. 11. The winners are Maria Bennett Hock (1st place), Kathy Strauss (2nd place), and Richard Mallory Allnutt (3rd place).
You can find more information about the Workhouse Art Center at www.workhousearts.org. The gallery is located at 9601 Ox Road Lorton. More about the Workhouse Associate Artists can be found at http://www.facebook.com/pages/Workhouse-Associate-Artists/134373016632491.