Alexandria — An auction house can never anticipate what might come through the door. Elizabeth Haynie Wainstein, owner of The Potomack Company, announced that a Virginia woman's flea market find — a lost Renoir painting the auction house recently revealed — will be for sale at the gallery's Sept. 29 catalogue auction.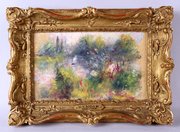 The Potomack Company's fine arts specialist, Anne Norton Craner, determined that the painting, which had been purchased along with a box of random items in the Shenandoah Valley, was actually a work by Pierre-Auguste Renoir worth many times more than its purchase price. Her investigation confirmed the painting as Paysage Bords de Seine, one of Renoir's many river scenes painted along the Seine River near the towns of Bougival and Chatou. The gallery estimates Paysage Bords de Seine will sell for $75,000-$100,000.
Further information about The Potomack Company's Sept. 29-30 catalogue auction is at www.potomackcompany.com or 703-684-4550. The Potomack Company is a fine arts and antiques auction gallery located at 526 North Fayette Street in Alexandria, Virginia.