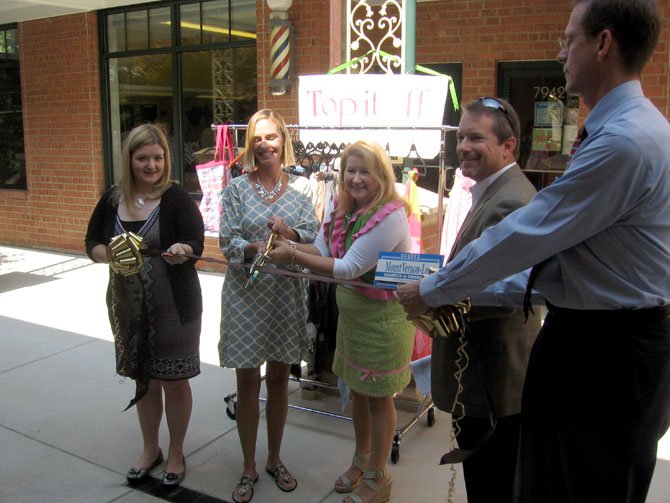 Mount Vernon — Located at the Hollin Hall Shopping Center, Top It Off held a ribbon cutting ceremony on Friday, Sept. 7, hosted by the Mount Vernon-Lee Chamber of Commerce. Michael Gailliot, chairman of the Chamber, led the ceremony.
"We are very excited about opening this, our first retail store, here in the Fort Hunt community," said Top It Off president Karena Rasser. "Our national office, which opened in 2004, is located in West Roxbury, Mass. Since its inception, Top It Off has served as a moderate brand boutique wholesale distribution company which now distributes our exclusive line of clothing, jewelry, and other accessories for women and children to 2,000 outlets nationally. We specialize in women's and children's jewelry, tunics, and other accessories for women manufactured in China and India. Gifts sold here at our Hollin Hall store also include: picture frames, wristlets, and children's apparel. We encourage local residents to stop by and see the wide array of beautiful accessories at very competitive prices (offered from $3- $25)."
In response to a question about why Top It Off selected the Mount Vernon area to open up its retail store, Rasser said: "As we developed our wholesale distribution business nationally we began to realize we needed an outlet for closeouts and discontinued items. Mount Vernon provided an ideal location for our store."

Top It Off is located at 7942 Fort Hunt Road. Store days and hours are Tuesday-Saturday, 10 a.m.-6 p.m. Telephone: 703-660-8844. Visit www.TopItOffAccessories.com.