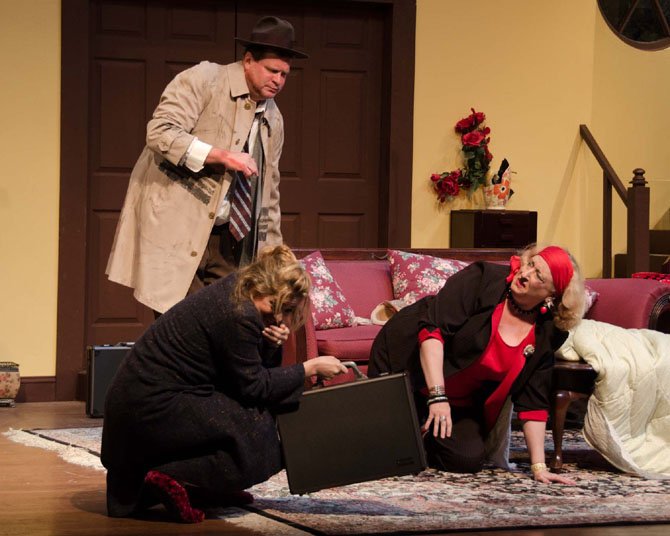 Alexandria — It's another routine day at the office when Henry Perkins heads home from work thinking his briefcase contains paperwork and a half-eaten cheese and chutney sandwich. But when he discovers a stash of cash, the hilarious hijinks begin in the Ray Cooney comedy "Funny Money," now playing at The Little Theatre of Alexandria.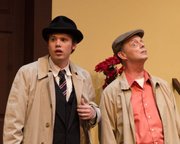 The rapid-fire British farce about mistaken identity tells the tale of Henry, a London accountant who discovers 735,000 pounds in a briefcase he mistakenly picked up on his way home from work. A stop at a local pub to contemplate his next move leads to one small lie that quickly snowballs into a complicated puzzle of imaginary relatives and compromising situations.
Director Shawn g. Byers has culled together a superb cast featuring Erik Harrison as Henry, Charlene Sloan as his teetotaling wife Jean, Gayle Nichols-Grimes and Ted Culler as Betty and Vic Johnson, Larry Grey as Inspector Davenport and John Shackleford as taxi driver Bill.
Each sails through the tongue-twisting dialogue and physical slapstick with aplomb, providing plenty of laugh-out-loud moments as Henry attempts to convince Jean to immediately jet off to Barcelona and leave their old life behind.
Harrison plays ringleader Henry with perfect comedic timing that is especially priceless in his near-end recap of the madcap plot. As Jean, Sloan brilliantly deteriorates from a controlled Stepford-wife decorum into a wife-swapping drunken stupor.
Henry and Jean get support from their friends Vic and Betty Johnson, played to Fred-and-Ethel-Mertz perfection by Culler and Nichols-Grimes. As Betty, Nichols-Grimes draws some of the evening's biggest laughs as she eagerly jumps into the escalating drama. Culler is spot on as the straight man, a puzzled Vic who's always a few minutes behind.
Police detectives Davenport (Grey) and Slater (Marisa Johnson) add to the general confusion. Grey especially makes an endearing crooked cop who pockets cash for turning a blind eye to the incestuous hanky panky.
The laughs would be fewer without the considerable talents of Shackleford's exasperated taxi driver Bill. Don't be fooled: in true Shackleford fashion, he knows more than you think.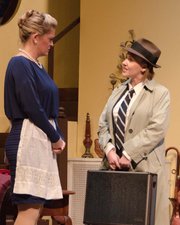 "Funny Money" shines with a quality cast and crew that rise to the challenge of the cleverly-penned misadventure. Don't think too hard, just relish the delightful humor that kicks off the 2012-2013 LTA season.
"Funny Money" is playing now through Sept. 29 at The Little Theatre of Alexandria, 600 Wolfe St. For tickets or more information, call 703-683-0496 or visit www.thelittletheatre.com.