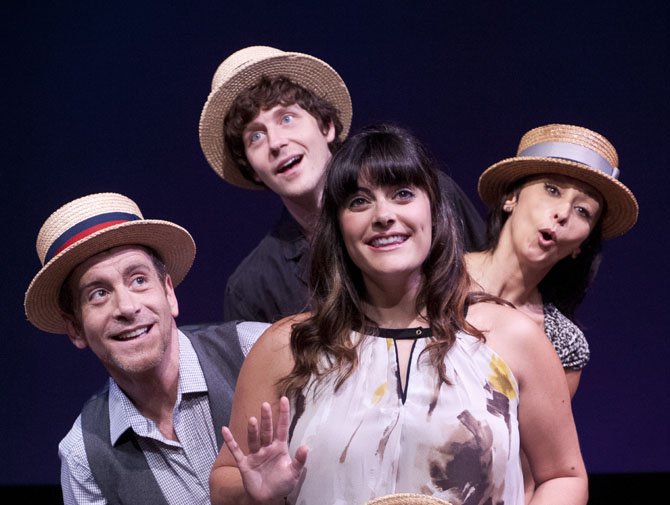 Alexandria — Though he was Belgian by birth, no one captured the spirit of the French troubadour tradition better than Jacques Brel, whose potent mixture of musical romanticism, cynicism and whimsy are brought to life in "Jacques Brel is Alive and Well and Living in Paris," now playing at MetroStage in Alexandria.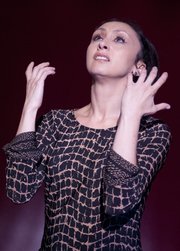 With an explosive cast of four, "Jacque Brel" delivers an enthralling evening of entertainment featuring the works of Brel augmented by material from Eric Blau and Mort Shuman in a revival of the award-winning Off-Broadway production.
Director Serge Seiden has cast four exceptional performers as capable of acting the quintessentially French songs as of singing them: Natascia Diaz, Sam Ludwig, Bobby Jones and Bayla Whitten.
Diaz, who received the 2009 Best Actress Helen Hayes Award (in a tie with theater legend Chita Riviera) for her MetroStage performance in "ROOMS, a Rock Romance," returns to the "Jacques Brel" role she captivated audiences with Off-Broadway in 2006. She gives a stirring performance of songs ranging from the heart wrenching "Ne Me Quitte Pas" to the powerful "Marieke."
Ludwig, Smith and Whitten are equally as gifted, each taking command of the stage during vignettes that bring luster to Brel's lyrics. Smith's comedic talents are evident when delivering the hilarious "Middle Class" and cavorting in the bawdy "Amsterdam," while the formidable presence of Ludwig shines in the dramatic "Next," a shattering performance of a young soldier preparing for war.
Making her MetroStage debut is Whitten, whose lyric soprano savors each note from "I Loved" to "Not Alone." Along with Smith and Ludwig, she is cleverly captivating in the story of "Timid Frieda."
In true cabaret tradition, the show moves along without a plot, unified by the eloquent set design of Daniel Pinha, breathtaking lighting effects by Jessica Winfield and striking costumes by Janine Sunday.
Signature Theatre's Associate Artistic Director Matthew Gardiner provides the choreography and music director Jenny Cartney (keyboards) leads the superb four-member onstage band of David Cole (guitar), Greg Holloway (percussion) and Yusef Chisolm (bass).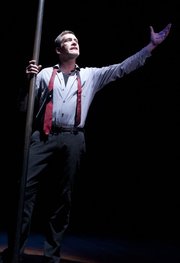 The ensemble comes together to capture the exhilaration of a carnival in "Carousel" and closes the show with Brel's signature "If We Only Have Love."
When the original Off-Broadway production of "Jacques Brel" opened in Greenwich Village in 1968, the composer was indeed alive and well and living in Paris. At the time, American audiences were familiar with his few songs that were successful as English translations, such as "Le Moribond," a hit for Rod McKuen as "Seasons in the Sun." In this must-see MetroStage production, Artistic Director Carolyn Griffin introduces a new generation to the power and passion that is the incomparable music of Jacques Brel.
"Jacques Brel Is Alive and Well and Living in Paris" is playing now through Oct. 21 at MetroStage, 1201 N. Royal St., Alexandria. For tickets or more information, call 703-548-9044 or visit www.metrostage.org.