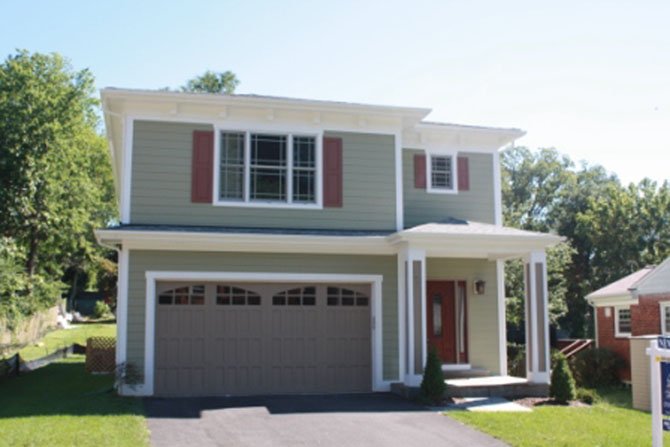 Arlington — A local homebuilder was honored recently for his efforts to reduce his carbon footprint. Andrew Moore, president of Arlington Designer Homes, says his company received its second Gold-level Green Building Certification in Arlington from the National Association of Home Builders Research Center for a custom-built home in Arlington.
The 4,000-square-foot, five bedroom, four-and-a-half bath structure, located at 2615 North Nottingham St. in Arlington, is one of only 12 homes in Virginia, including two in Arlington, to be certified at the Gold level. Moore says the honor underscores his work to protect the environment. 
"If you look at all of the resources that we use in our daily lives, a major part of that is our homes," said Moore. "Something we felt that we could effect a large change on was building efficient homes that people like to live in. We can't do a lot about other things, but we can do a lot about the houses that we build."
Certified green homes incorporate green practices in lot and site development, resource efficiency, energy efficiency, water efficiency, indoor environmental quality and homeowner education.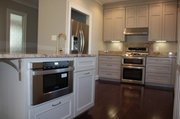 According to Moore, the home includes energy-saving features such as Energy Star appliances; energy-efficient Jeld-Wen windows and doors; an advanced insulation package with Agribalance spray-foam insulation; a two-zone, high-efficiency heating, ventilation and air conditioning (HVAC) system; low volatile organic compounds (VOC) paints and low-maintenance Hardiplank siding with polyvinyl chloride (PVC) trim exterior.
"With this home, we're approaching a 50-percent energy savings," he said.
Local real estate experts say that demand for such energy efficient homes is on the rise in Arlington: "In the last five years, we've seen a lot more interest in energy-efficient homes. With some of the niche markets in Arlington and some of the higher end homes, you're starting to see a high demand," said Brian Blackburn of McEnearney Associates. "As a real estate agent, I've seen people asking more and more for some of these green features, especially with the economy the way that it is. People are seeing a lot more returns on their energy bills."
"Something we felt that we could effect a large change on was building efficient homes that people like to live in." — Andrew Moore
A report released earlier this year at the NAHB National Green Building Conference and Expo shows that construction of green homes is expected to rise 29 to 38 percent by 2016. 
"When builders are able to offer homes that not only are green, but also offer the combination of higher quality and better value, they have a major competitive edge over those building traditional homes," Harvey Bernstein, vice president of industry insights and alliances at McGraw-Hill Construction, said in a statement. (McGraw-Hill conducted the study.) 
Moore added that the North Nottingham Street home has also been certified under both the new, more stringent Energy Star guidelines and the Arlington Green Home Choice Program.