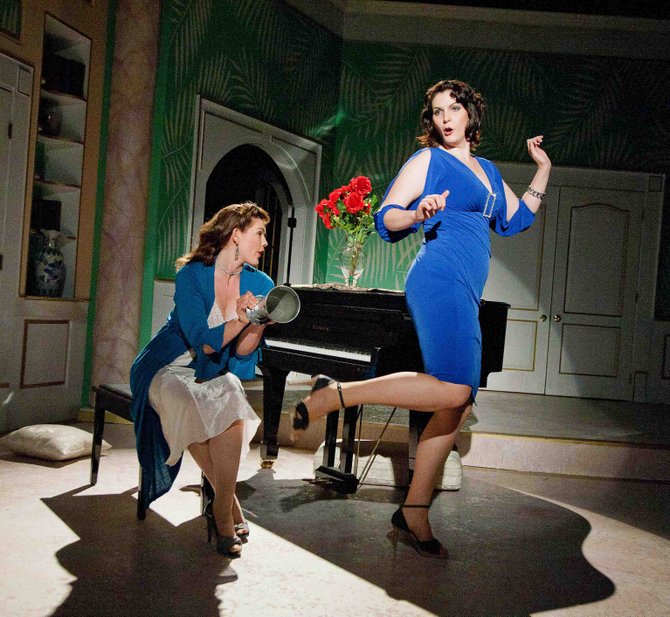 If you like your farce with loud bull-horn voices, lots of slamming doors, and telegraphed actions, then the 1st Stage production of "Suite Surrender" by Michael McKeever is for you. Built upon a slim, flimsy script, the comedy spins ever forward, always in overdrive. Yet it ends with an unexpected wittiness that makes even the most hard-nosed reviewer indulge in a smile.
As written by McKeever, the characters are cut-outs. With admirable actors playing their roles as broadly as they seem to have been directed by Rex Daugherty, the show can be quick on its feet. At times the script and direction are like a children's show, due to repetition of the obvious to insure the audience does not miss what is going to happen.
The foundation of the playwright's proposition? It is the early 1940s. A luxe Florida hotel is under assault as two Hollywood divas are in town to perform at a USO benefit. Somehow they are booked in the same suite; this leads to all sorts of foibles, mistaken identities, lame double entendres and more high-energy action then the Marx Brothers. Can the two divas breathe in the same air without coming to blows? Or perhaps it is all a ploy to sell tickets to the benefit? You will just have to see for yourself.
The cast give their all. They play their one-dimensional characters with broad brush strokes. As the show progresses, they become more flexible and nuanced in how they move and say their lines. Katie Nigsch-Fairfax and Farrel Parker are the sturdy divas standing on at least four-inch heels, projecting substantial presence. Bradley Foster Smith is a suitably meek assistant. Nora Achrati seems to have been asked to overplay a Spanish accent. Lisa Hodsoll and Stephanie Roswell add depth and dimension to their characters.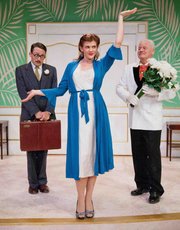 The customary 1st Stage meticulous technical design welcomes in the audience. The set exudes a tropical Florida sensibility with eggshell white walls and fern green palm leaf-like wall paper, along with three pair of double doors and another door leading to a well-used closet. The costumes are a delight. The colors pop, whether scarlet bell-hop jackets and caps with gloves, a well-trimmed white dinner jacket, or an emerald green and flowery or a form-fitting royal blue outfit for the divas.
"Suite Surrender" is a frothy show built on improbable actions that never lets up, like a dizzying spinning toy.
Where and When
"Suite Surrender" at 1st Stage, 1524 Spring Hill Road, McLean. Performances now through Oct. 14. Fridays 8 p.m., Saturdays 2 p.m. and 8 p.m. and Sundays 2 p.m. and 7 p.m. Tickets: $15-$25. Call 703-854-1856 or visit www.Boxoffice@1stst…