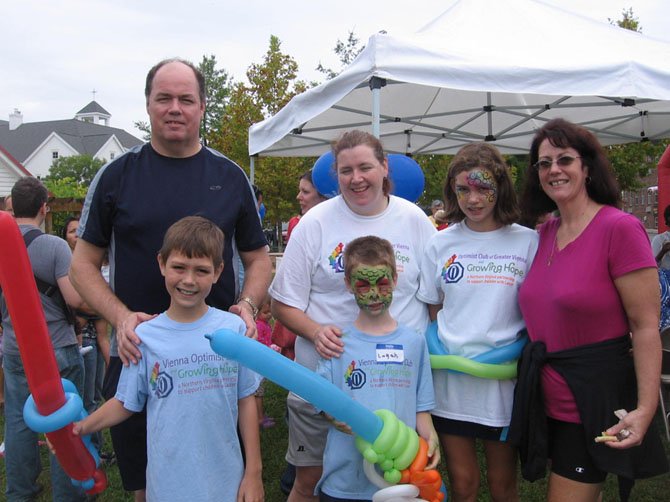 For families looking for free family fun, look no further than the Vienna Town Green on Saturday, Sept. 29. For the seventh consecutive year, the Optimist Club of Greater Vienna hosts its annual Walk & Family Fun Day for Growing Hope, a local nonprofit resource dedicated to supporting children with cancer and their families.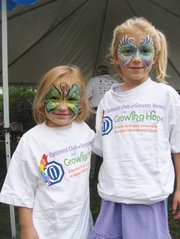 The event, featuring a fundraising walk, refreshments donated by local vendors, moon bounce, balloon artist Marsha Gallagher, a face painter, dunk tank, storytime, and music, is free of charge, and runs from 10 a.m. to 2 p.m. Donations are welcomed, and proceeds from a raffle and silent auction, with prizes donated by community businesses, go directly to the Optimists' childhood cancer-fighting campaign. Growing Hope receives 75 percent of Vienna childhood cancer fundraising and the Johns Hopkins pediatric oncology research program receives the remaining 25 percent.
"One thing that Growing Hope does that we believe is special is to provide very personal, hands-on support, not just to the children who are being treated in the two clinics, but also to their families," said Growing Hope Walk and Family Fun Day chair Sara Byrd Goldberg. "How can you really help a child with cancer and ignore the parents, siblings and maybe, even, grandparents?
"We think the beauty of Growing Hope is that it is a small nonprofit organization, and it can react quickly to needs it sees each day. It doesn't have to wait for a formal quarterly board meeting to make a decision. It has a clear mission statement and a small, well-informed board."
GROWING HOPE was founded in 1998 by a group of Northern Virginia parents, many of whom have lost children to cancer, coping with the effect of the disease on their children and their families. It operates out of the only two pediatric oncology offices in Northern Virginia.
Goldberg described the evolution of the partnership between the Optimist Club of Greater Vienna and Growing Hope. When Optimist International (OI) encouraged all clubs to sponsor a childhood cancer campaign to reinforce OI's mission to be "the leading force to rid the world of childhood cancer," then-club president Barbara McHale called upon member Bob McCormick to form a committee to find a local organization that was doing something special with childhood cancer. McCormick met the "story lady," a volunteer with Growing Hope. It didn't take much time for McCormick and his committee to recognize they had found the "perfect" partner in Growing Hope.
Since the launch of the local campaign, the Vienna Optimists have raised more than $236,000.
"Growing Hope looks at the whole family, not just the sick child," said Growing Hope board member Paula Lackey, who lost one of her two children diagnosed with cancer to the disease. "Siblings, relatives, anyone important in that child's life, are part of our family."
Goldberg noted that every dollar the club raises stays in the area. "We know that we're supporting an organization that's just down the street, caring for local children suffering from cancer and their families. Many of us Optimists have met some of these kids, their families and GH workers at our annual Walks. We've seen and heard for ourselves the caring commitment Growing Hope makes and carries out every day. We know we're making a huge difference in the lives of these kids and their families. We're raising money so that Growing Hope can provide on-the-spot love and care to these children and their families that we would do if we could. Growing Hope acts for us."
Vienna Optimists contribute all of the events' proceeds to Growing Hope and to the pediatric oncology research program at Johns Hopkins University and Medical Center.
"In a rash moment, I said that our goal this year is to raise $50,000," said Goldberg. "I know that we will raise more than we did last year, and I'm counting on our wonderful community to help take us to $50,000. We can't do this by ourselves. We need community support."
THE OPTIMIST CLUB of Greater Vienna Walk & Family Fun Day for 'Growing Hope' is on Saturday, Sept. 29, from 10 a.m. to 2 p.m. on the Vienna Town Green, Maple Avenue East and Mill St. Local elected officials are expected to visit. To learn more about the Optimists' childhood cancer fight, go to
www.optimistclubofgreatervienna.org.