Arlington — Oktoberfest season comes but once a year, so be sure to attend any number of Oktoberfest events around Northern Virginia. Celebrations include traditional Bavarian bratwurst, family fun, live bands and fine brews.
The Oktoberfest at Capital City Brewing Company will be held in the Shirlington village Saturday, Oct. 6 from noon to 7 p.m. Tickets are $25, and include a 4 ounce sampler cup plus ten redeemable beer tickets. Visit www.capcitybrew.com.
Virtue Feed and Grain will host an Oktoberfest in Alexandria at 106 S. Union St, on Saturday, Oct. 6 from 11:30 a.m. to 9 p.m. Visit www.virtuefeedandgrain.com.
Fort Belvoir Oktoberfest, hosted by MRW, will be held Thursday, Oct. 4 through Sunday Oct. 7. Tickets and festival hours vary by day. Visit www.belvoirmwr.com.
Snallygaster, a beer festival hosted by Rustico, will take place in D.C. at Yards Park, 3rd and Water streets, SE, on Saturday, Oct. 13, from 1-5 p.m. Tickets are $25 and include 25 redeemable tickets good for brews and food. Visit www.snallygasterdc.com.
The Northern Virginia Brewfest will be held Saturday and Sunday Oct. 20-21 from 11 a.m. to 7 p.m. at the Special Events Center at Bull Run Regional Park in Centreville. Visit http://novabrewfest.com/fall/.
— Compiled by Montie Martin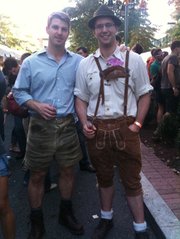 O'zapst ist!
The traditional opening toast in Bavaria is reserved for the mayor of Munich once he taps the first keg at noon. Cries of "it is tapped!" will fill the beer tents as thousands await their first stein. Oktoberfest is the hallmark German festival celebrated in Bavaria during the final weeks of September. In 1994 the event was modified to coincide with Germany's Unity Day on Oct. 3, when East and West Germany reunited after decades of separation as a result of the Cold War.