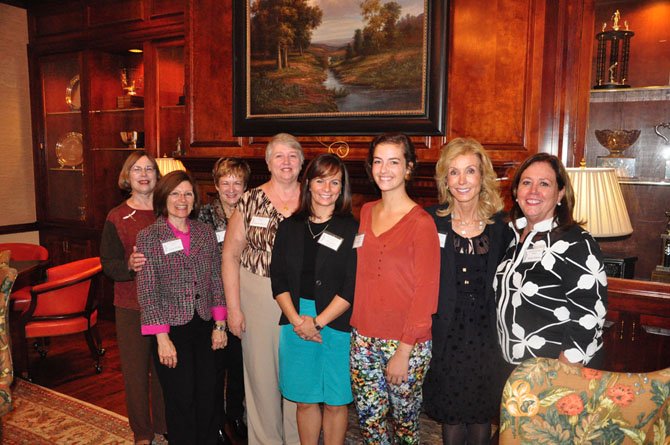 Great Falls — The Great Falls Friends and Neighbors Club awarded scholarships to four local students Tuesday, Sept. 18, as part of their annual community outreach. Tamara Ackley of Alexandria and Elizabeth Harrell of Woodbridge were awarded $2,500 each and Elena Ortuno, who is studying radiology at Northern Virginia Community College, was awarded $1,500. Katherine Stewart of Chantilly was also awarded $1,000 from the group's Betty Carter Dance Fund.
"For me, this money will make my balancing act right now work a lot better," said Harrell, who is a graduate student in public administration with a concentration in criminal justice at George Mason University. "I'm working full time and taking classes, so hopefully this money will help me work less, so I can spend more time with my family."
Supporting Local Scholarships
The Great Falls Friends and Neighbors club will host their annual fundraising bridge jamboree, the primary source of the funds used for the scholarship, Friday, Nov. 30. The event will take place at Christ the King Lutheran Church, 10500 Georgetown Pike, Great Falls, from 9:30 a.m. to 3:30 p.m.
To reserve a spot send a check for $45, made out to GFFNSF Bridge Jamboree, to P.O. Box 611, Great Falls, Va., 22066.
Harrell said she hopes to eventually work in a leadership role with a nonprofit government agency, hopefully one that deals with children's issues.
Along with Harrell, Stewart attended the Great Falls Friends and Neighbors luncheon Tuesday, Sept. 18 to receive her award from the Betty Carter Dance Fund, which was set up to support local women who are majoring in dance.
She is studying dance at George Mason University.
"I'd love to do some sort of study abroad program," Stewart said. "My goal is to one day perform with a modern dance company, or just to continue to be involved with the arts in any way I can."
Ackley, who was unable to attend, is a senior at George Mason studying neuroscience.
The Great Falls Friends and Neighbors awards scholarships every school year from funds raised at their annual bridge jamboree.
"We raised about $5,000 last year that went to these girls to help with their studies," said Mary Stout. "We're always looking for more people to participate, because then we can give out more money."