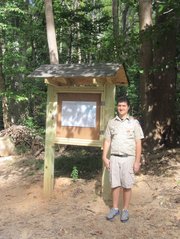 Nick Mariam, a Boy Scout in Troop 128, McLean, and a sophomore at Thomas Jefferson High School for Science and Technology, combined his interests in technology and hiking in his Eagle Scout Project at Seneca Tract in Great Falls.
Seneca Tract is a Northern Virginia Regional Park that is popular for hiking, access to the Potomac River, and horseback riding. The Potomac Heritage Trail runs through the park and connects the area with Riverbend Park and Algonkian Regional Park.
Nick spent the summer coordinating efforts to GPS map over 7 miles of trails in the park. The derecho storms complicated the mapping of the trails as downed trees obstructed many of the trails in July.
Scouts from troop 128, family and friends helped Nick construct an information kiosk to display the map of the park. Nick dedicated over 200 volunteer hours to the planning and execution of the project.